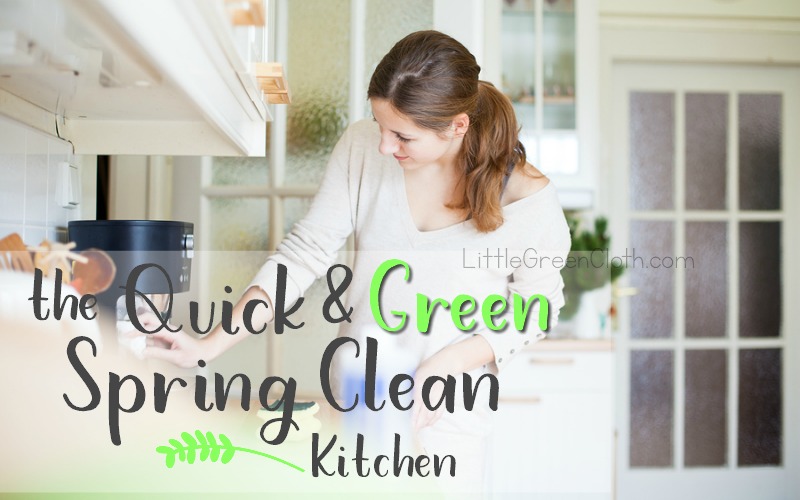 Lets be honest: the kitchen is a pretty big job to tackle.
All those crumbs we thought vanished were really just hiding under the refrigerator. Those splatters from baking cakes must be wiped off the backsplash. Today is the day to conquer that pesky oven we've been putting off for just one more day. On kitchen day, I like to keep the area free of dishes and food so give yourself the day off from cooking whatever meals interfere with your time cleaning. Here are the tools we will be using today:
The Kitchen and Dining Room Checklist
Wipe down inside and front of refrigerator with Enviro Cloth. Defrost freezer, if needed, and wipe down inside with Enviro Cloth. Go through your food and toss expired items
Dust top and sides of refrigerator with Envirowand. Dust things on top of refrigerator with Dusting Mitt; wipe with Enviro Cloth if needed.
Vacuum refrigerator coils
Clean under refrigerator– sweep, dust with Dry Pad, and mop with Wet Pad
Clean microwave– microwave a bowl with half a cup of vinegar for 2 minutes, then wipe inside down with Enviro Cloth.
Clean oven with Oven and Grill Cleaner-   Preheat oven to 100°F/38°C. Turn off, then apply cleaner. Close oven and allow to  work for five minutes. Wipe clean with a damp EnviroCloth. After cleaning, heat oven to 200°F/95°C for 10 minutes before cooking food.
Clean oven top with Cleaning Paste** and damp Enviro Cloth, or a Spirisponge or Spirinett if needed
Wipe down with rest of the oven with a damp Enviro Cloth
Clean under oven– sweep, Dust with Dry Pad, mop with Wet Pad
Descale kettle and polish outside with Cleaning Paste**
Clean bottoms of pots and pans with Cleaning Paste**
Clean dishwasher- wipe out with Enviro Cloth
Clean sink with Cleaning Paste**, and Descaler*, if necessary
Clean drain with Drain Care
Wipe out all cupboards and drawers, and then wipe faces with Enviro Cloth.
Clean out toaster and wipe down all other counter top items with Enviro Cloth
Wipe down back splash with Enviro and Cleaning Paste or Micro Cleaning Hand Pads
Wipe down table and chairs with damp Enviro Cloth
Wash any window treatments
Wipe down blinds with Dusting Mitt or damp Enviro Cloth, dust light fixtures with Dusting Mitt, dust vents with damp Dusting Mitt
Dust any other knickknacks with Dusting Mitt
Remove marks from walls, light switches, doors, etc. with Cleaning Paste and Enviro Cloth or Micro Cleaning Hand Pads
Finish with any other routine cleaning procedures
Are you wiped out? Your kitchen is wiped out too, thanks to you!!  Great job!!
~ Suzanne