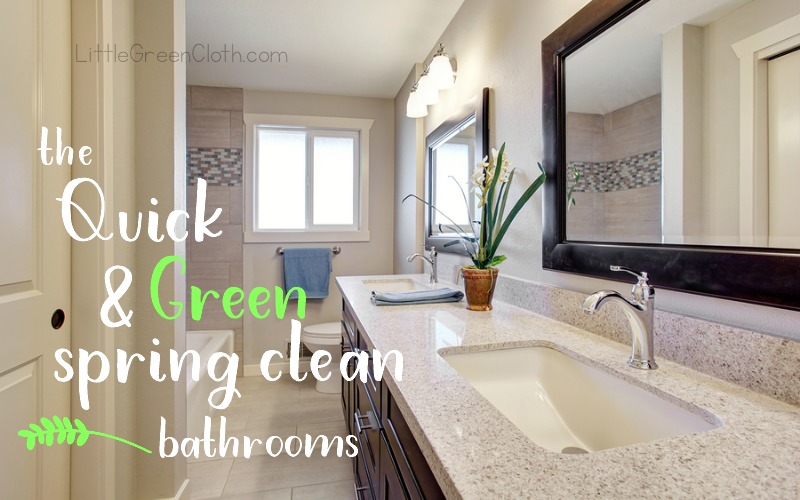 Have you started your spring cleaning yet?
Before you head to the store to buy a bucket full of specialty chemicals, stop and consider what you are bringing into your home and if it is necessary to accomplish the tasks that you need done!
When you spring clean with Norwex, I hope you will find the satisfaction of a clean home without the frustration that comes with these tedious tasks. Norwex will also save you time and money, without exposure to chemicals. In our "Quick and Green Spring Clean" Series, I will be sharing alternatives to the typical, chemical-laden method. I will also be sharing some tips on using the products in ways you might not have thought of before. If you have questions or other tips, shout them out!
Here are the tools we will be using today:
The Bathroom Checklist
Dust vents and light fixtures– Dry dust any knickknacks and the light fixtures. Wet down the Dusting Mitt and wring out; wipe against your vents.
Wipe out all cabinets and drawers– dry dust the inside of your drawers with the Enviro Cloth; wipe out with a wet Enviro Cloth.
Tub and Shower Care– With the Norwex Descaler and your Bathroom Scrub Mitt, wipe out the soap scum and hard water build up.
Deep clean sink and toilet– wipe down the sink and toilet with the Blue Diamond; if you have a lot of hard water build up, use the Descaler.
Clean walls, light switches, cabinets, and door– use either the Micro Cleaning Hand Pads or the Cleaning Paste with Enviro Cloh.
Finish with any other routine procedures
Windows- Inside and Out
Clean Screens– Use the Dusting Mitt to wipe both sides. Simple as that!
Clean Window Sills– Use a wet Enviro Cloth with a bucket by your side to wash out the debris as needed.
Wash windows-Wipe down with a wet Enviro Cloth and dry with the Window Cloth. You might need an extra Window Cloth.
Wash High Windows– If you have windows that are out of your reach, grab your Mop with a damp Wet Pad attached. Extend Telescopic Handle as far as it goes, then wipe down your window. Attach the Mop Bracket, along with the Window Cloth, and dry off.
Wash Window Treatment
Dust Blinds with Dusting Mitt
Well, how did it go? Take a break and come back soon for the next set of tasks, listed below!
Happy cleaning!
~ Suzanne