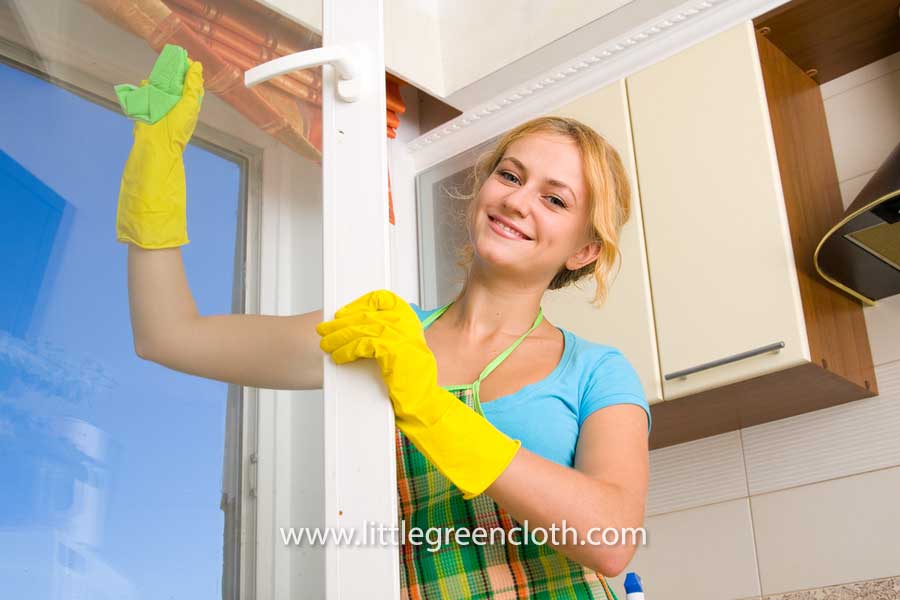 Did you know that some of the most basic household cleaning products are among the most toxic?
Cleaning agents differ in their classification of health hazards; some cause serious or immediate dangers such as skin irritations, respiratory and eye irritation to illness such as reproductive and respiratory disorders as well as  major diseases such as cancer.  A health hazard commonly associated with using window glass cleaners would be inhalation of the mist emitted from the bottle or getting the chemical into your eyes.  Ingestion of the chemicals could pose a serious health risk.
What's in your window cleaner?
Some of the chemicals typically found  in window cleaners include ammonia and isopropanol.  Ammonia is known to be a powerful chemical agent that is diluted for household cleaning products and is highly poisonous.  Exposure to high concentrations of ammonia can cause burning of the eyes, nose, throat and respiratory tract and can result in blindness, lung damage or death.  Inhalation of lower concentrations can cause coughing, and nose and throat irritation.  Swallowing ammonia can cause burns to the mouth, throat and stomach. Skin or eye contact with concentrated ammonia can also cause irritation and burns. *
Other older window cleaner chemical agents include :
Ethanol
Isopropyl alcohol
Methanol
Common symptoms of chemical exposure or poisoning may include:
Loss of vision
Throat pain
Burning in the nose, eyes, ears, lips or tongue
Bloody stool
Burns of the esophagus
Abdominal pain
Vomiting
Low blood pressure
Difficulty in breathing
Coma
Insomnia
Irritability
Brain damage
Skin irritations
2-Butoxyethanol, a chemical compound often found  in window cleaners, appears on the National Institute of Health's Household Products list. The Center for Disease Control stated that the major effect of the said chemical is hematotoxicity. "Hemotoxins are toxins  that destroy red blood cells (that is, cause hemolysis), disrupt blood clotting, and/or cause organ degeneration and generalized tissue damage. The term hemotoxin is to some degree a misnomer since toxins that damage the blood also damage other tissues."** Also chemicals with high acute toxicity levels include a mixture of chlorine bleach and ammonia. A combination of these two produces fumes that are highly irritating to the eyes, nose, throat and lungs. They should be kept away from people suffering from asthma or those with existing lungs or heart disorders.  Other agents in window cleaners may possess low toxicity levels and concerns however can  can still pose health-related problems in the long run. Toxic chemicals in cleaning products can also harm the environment. The U.S Environmental Protection Agency named ammonia, nitrogen, phosphorus and other related chemicals belonging to "Volatile Organic Compounds" as the worst environmental hazards in household cleaners. VOCs are found in most household cleaners used to whiten clothes, remove dirt and grime from dishes and disinfect bathrooms. Nitrogen is often found in surface and glass cleaning products such as window cleaners. These chemicals are considered dangerous water contaminants as well. Furthermore, VOCs can pose health problems when they are concentrated inside your home and the hazard extends outside once the nitrogen enters the environment.
Healthier options for cleaning your windows
An alternative to keep you and your family safe is to use homemade natural cleaners or Norwex products.  Some people make their own window cleaner by using organic ingredients like vinegar, warm water and some detergent. Another alternative is to check for commercial products carrying the U.S Environmental Protection Agency's "Design for the Environment Label" as these products have passed the EPA's standards for non-toxic ingredients.
I personally love the speed and ease of cleaning our windows and mirrors with the Norwex Basic Package.  I use a wet Enviro Cloth first to remove all dirt and grime from the windows, and then follow by polishing the glass with our Norwex Window Cloth.  We have been using the same enviro cloths and window cloths in our home for more than four years, and they still provide a streak free shine every time.  It's even so easy that my young son can clean windows!
For more ideas on safe home-cleaning supplies,  follow me on Facebook or check out my Norwex Shopping Site to see the rest of our wonderful product line.
Thanks for stopping by!
~ Suzanne
References: www.greenliving.nationalgeographic.com www.nlm.nhi.gov www.organicconsumers.org *http://www.health.ny.gov/environmental/emergency/chemical_terrorism/ammonia_general.htm http://www.health.com/health/article/0,,20428285,00.html
** http://translation.babylon.com/english/hematotoxicity/