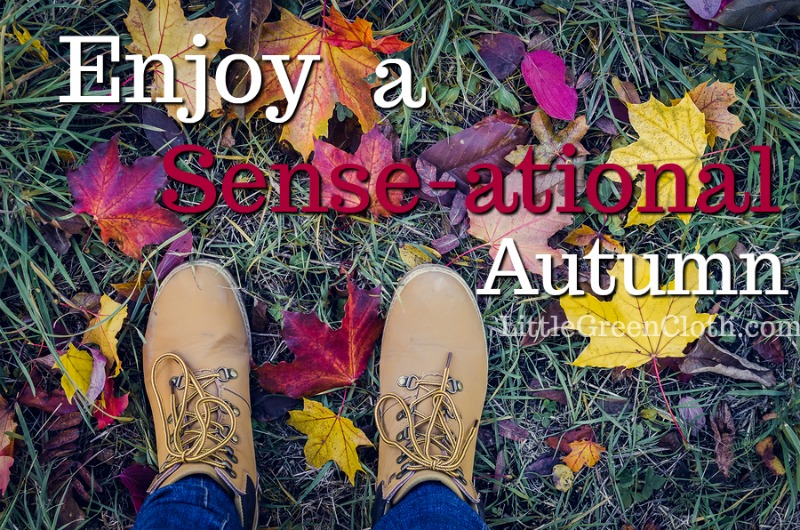 Whether the weather is acknowledging the change of season in your area or not quite yet, fall is finally upon us.  Bringing the warmth of color and texture into your home this autumn season is possible.  By providing links to my compiled fall Pinterest boards, as well as these additional suggestions below,  you will find plenty of ideas to embrace this season of fall with all of your senses intact.
Sight
The varied colors of fall foliage!
Especially if you live in the upper sections of the United States, you do not have to go very far to experience an explosion of color this time of year.  Starting north and moving south over the course of several weeks, you usually have about a month to enjoy these changing autumn hues.  If only we all had enough vacation time and gas money to drive around the United States to experience them all!  Here is a link to my personal collection of ways to see a spectacular fall.
Another great way for kids to see fall is to check out a great collection of autumn books from your local library.  Some of my personal favorites are Red Leaf, Yellow Leaf and Leaf Man both by Lois Ehlert.  Another favorite is Apple Picking Time by Michele Benoit Slawson.  To see suggestions of more than one hundred additional fall books, please check out my seasonal books for children Pinterest board.
Taste
Switching up the traditional  – pumpkin-cinnamon chip cookies!
Finding recipes that feature fall flavors is no longer challenging.  What is difficult?  Narrowing down which one to make first!  From appetizers to beverages to salads to soups to main dishes to desserts, the traditional fall flavors of apple and pumpkin are featured in many recipes.
Apples Suggestions:
-When combined with kale, parsley and bananas, green apples are the perfect addition to a healthy smoothie.  Freezing the ingredients in advance works  best, then add a bit of water or juice before blending.
-Dip apples in peanut butter for a healthy after-school snack.
-Buy unsweetened applesauce, then add fall sprinkles or a few redhots to add a bit of fun.  This will result in a bit of sweetness yet having way less sugar than the sweetened varieties.
Since most of us probably don't chomp on a pumpkin, finding recipes that use that orange vegetable ingredient require a bit more work.  Or at least, they probably start with a can of pumpkin to be a bit simpler.  I have linked many great recipes including all meal courses on my "Taste of Fall" pinterest page.
Smell
Whole cloves set off an apple beautifully!
What if you're running behind one day, but friends are stopping over soon.  You picked up a dessert at the store, but you want your house to smell like you have been baking all day.  Little ones running around might mean a candle isn't a great option.  What can you do?  Create your own simmering fall potpourri!  The simplest method involves filling a small saucepan with water and adding apples peels and/or slices, along cinnamon sticks or whole cloves.  Options are endless when you compile a list of fall scents.  For more air fresheners using natural ingredients, please see my "Fall is in the Air" Pinterest page.
Touch
Painted wood, burlap and straw – the fun feel of fall!
A nubby sweater.  Pine cones towering in a bowl.  Bumpy gourds centering a table-scape.  The luxurious softness of a knitted afghan.  Covering a couch with a tapestry throw.  All of these illustrate the textures of fall.  By surrounding yourself with your various favorites, you will naturally feel more cozy while at home.  Getting to illustrate the feel of fall to children is another enjoyable option.  Pick out one or two sensory bin themes and fill a container with items, such as scented rice, corn kernels and leaves, that allow children to play in fall.  Making scented play-dough in various colors will allow you to demonstrate several senses in one project.
Sound
Jumping into an autumn mountain!
Crunching an apple.  Rustling in leaves.  Zipping a jacket.  These all
illustrate just a few items you can hear during autumn.  While creating a Pinterest board for this sense would not have worked well, I can suggest a few musicians that you could also enjoy listening to during this season.  This music is a beautiful way to illustrate the sound of autumn.
Autumn

– Album by George Winston
Autumn Dreams

– Album by Danny Wright
"Autumn in New York" the instrumental version by Harry Connick, Jr.
"Autumn in New York" – the classic vocal by Ella Fitzgerald
"Autumn Leaves"- the classic vocal by Nat King Cole
Thanks for stopping by to visit my blog.  I hope you have an amazing fall; it's one of my favorite times of year!
~ Suzanne
Save