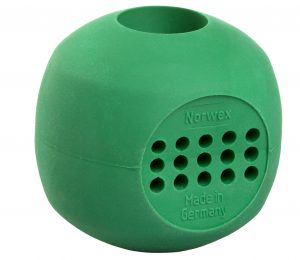 I have gotten a few questions lately about whether or not it would make sense to use the Norwex Magnet Ball if you already have a water softener.  The Magnet Ball prevents calcium molecules from building up in dishwashers and washing machines, resulting in softer water and requiring up to 50 – 70% less soap.
We have a water softener, a whole-house allergy filter, and we DO use the magnet ball in our dishwasher.  It reduced the amount of detergent we use by half, and it eliminated the need for a rinse aid.  We previously would get spotting on our glasses even with a rinse aid, and now our glasses have looked great since we began using the Norwex Magnet Ball.  It is a good idea to use a Norwex Enviro Cloth to clean out the middle of the ball about once a month.
The magnet ball should not be used in front-loading / High Efficiency washing machines and is meant to be used on the bottom rack of the dishwasher.  The magnet ball has a five year warranty.
Please continue to send me these wonderful questions about our products; I love hearing from you.  Comments are welcomed below; please share your experiences with the Norwex Magnet Ball.