I wash my hands a lot…and I mean A LOT!
We have a severe food allergy in our family.  Because of the food allergy, it is not uncommon for me to wash my hands fifteen to twenty times or more during meal preparation for one dinner.  Our old soaps always seemed to leave my hands dry and cracked.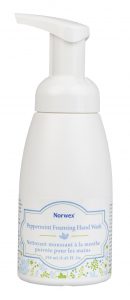 Enter Norwex Peppermint Foaming Hand Wash…an amazing alternative to the soaps I was buying at the store.
The Norwex Peppermint Foaming Hand Wash is a very luxurious, thick foaming soap containing Shea Butter and Calendula, which have amazing moisturizing properties. Calendula is a natural antimicrobial. The foam soap maintains natural pH balance for the skin*.   It has a nice, pleasant scent that was developed by Norwex to be non-allergenic.
The Norwex foam soap does NOT contain parabens, formaldehyde releasers, or triclosan.
I just LOVE how soft my hands feel, regardless of how many times I wash them with the Norwex foam soap.  I notice quickly when I use soaps away from home that my hands don't stay as soft.
The foaming soap cleans extremely well.  We had some painting done recently and one of the painters commented on how great my Norwex hand soap was.  He said that he loved how nicely it lathered up and how CLEAN it got his hands.  That's Norwex … the REAL CLEAN!!
The Norwex Peppermint Foaming Hand Wash comes in two sizes. You can get it in an 8 oz size with a white pump

dispenser.  You can also purchase a Refill Bottle as a 33.82 oz / 1 Liter size.  This is great for refilling the smaller bottles.   The 8 oz Foam Soap dispenser is designed to deliver the right amount of soap and is formulated for daily use.
I have been using the 8 oz bottles for three years now and have been refilling them with the refill bottle. I have been quite happy with this method.
Last week I was shopping with a friend (something I rarely get to do!) and we went into Bed Bath, and Beyond.  I found a new bottle for my Norwex Peppermint Foaming Hand Wash and I just LOVE how it dresses up our bathrooms.  I was nervous that the Norwex soap wouldn't foam properly, but it works great!  I ended up buying a couple of these cute bottles and put them in all of our bathrooms.  Now my Norwex Peppermint Foaming Hand Wash is effective AND pretty!  Given how easy it was to find these, I am sure there are many stores out there that offer a similar product; find one that suits your style and display your foam soap proudly!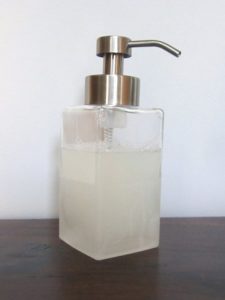 Do you use the Norwex Peppermint Foaming Hand Wash?  Would you be more likely to do so if you had a pretty bottle?
Contact me with any questions, or to ask me to bring a sample of the Norwex Pepperming Foaming Hand Wash to your next home party.