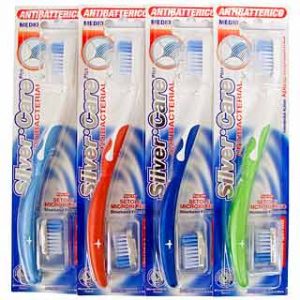 The Norwex Silver Care Toothbrush is amazing!!  It's one Norwex product that my family is guaranteed to use daily.
When I first became a Norwex consultant, I was a bit confused as to how a toothbrush fit in with 'chemical free cleaning' as we then referred to it.  I soon realized that it fits perfectly with the company mission of 'improving quality of life by radically reducing the use of chemicals in personal care and cleaning.'
Our Silver Care Toothbrush is an adult sized toothbrush that was created to help eliminate bacteria growth and buildup.  The brush self sanitizes within hours.  It has a silver-coated replaceable head; heads should be replaced every six months.  Each toothbrush comes with two heads, and refills are also available in sets of two.  The toothbrush comes in soft and medium; the medium bristles are made out of microfiber.
I have heard so many success stories from people who purchase the toothbrush and say that it absolutely changes their dental hygiene; many say that they get complements the next time they visit the dentist for a cleaning.
This April, I was pleased to see an article in People Style Watch magazine that featured "tricks from celeb dentist Dr. Arthur Glosman to make (and keep!) your teeth healthy and bright.'  His top choice for a toothbrush was the "Bacteria-fighting toothbrush" (as the photo is captioned)…the Norwex Silver Care Toothbrush.  It's so fun to see the word spread about Norwex products!
To purchase a Norwex Silver Care Toothbrush of your own, please contact me or click one of the following links to purchase through my online Norwex store:
Norwex Soft Toothbrush with Refill
What have been some of your biggest success stories or surprises with the Norwex Toothbrush?