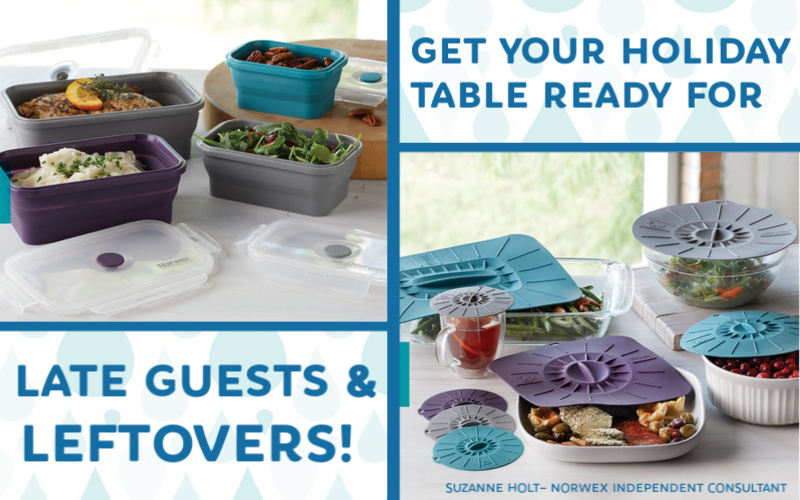 Hopefully, your holiday table is ready and preparations are well underway! Are you going with the traditional, tried-and-true recipes, or will you be experimenting with one of your favorite Food Network star's recipes? Meal planning for a holiday can be tricky, especially when you consider the potential for late guests and what to do with all the leftovers! But this year, I have a plan. I have a feeling my Norwex silicone lids and storage containers are going to come in handy!
I know people aren't intentionally late, and anticipating this event is part of being hospitable. Usually, we hold the meal for whoever is late so we cover everything with tin foil, making sure that it is perfectly crinkled around the rims. Tin foil isn't the best at keeping food hot for very long and creating a tight seal is tough! This year, I plan on using my Norwex silicone lids so I can keep my holiday table ready. These lids insulate longer because they create an airtight seal. In the event that I need to reheat, I can keep the lid on while I place in the oven or microwave so all the moisture and flavors don't escape while they warm up. Since there are so many shapes and sizes of lids, I know that all my food will get covered. Use the Large Silicone Lids to cover your mashed potatoes and cooked veggies. Use your Rectangular Lid to cover your stuffing and the Square Lid to cover your green bean casserole. The Small Round Lids are perfect for keeping your gravy and cranberry sauce just the right temperature.
When you are done with your big meal and the turkey coma is about to hit, give yourself a break with clean up! Just seal the lids on and place in the refrigerator. Sometimes, a dish isn't a big hit and almost the whole batch is left. Don't struggle to stuff it in multiple food storage containers or fight with plastic wrap; instead, just slap a silicone lid over it. Since they create an airtight seal, you won't have to worry about your leftovers going stale in the fridge. If you need to get items off your nice serving dishes, grab a few of the Silicone Food Storage Containers. They are so easy to store and clean, plus they are BPA free!
Because of these lids, many of my worries have subsided, except my fear of a dry turkey! I look forward to trying my plan out this year because I have a feeling it will be something I am thankful for! Happy Thanksgiving!!
~ Suzanne