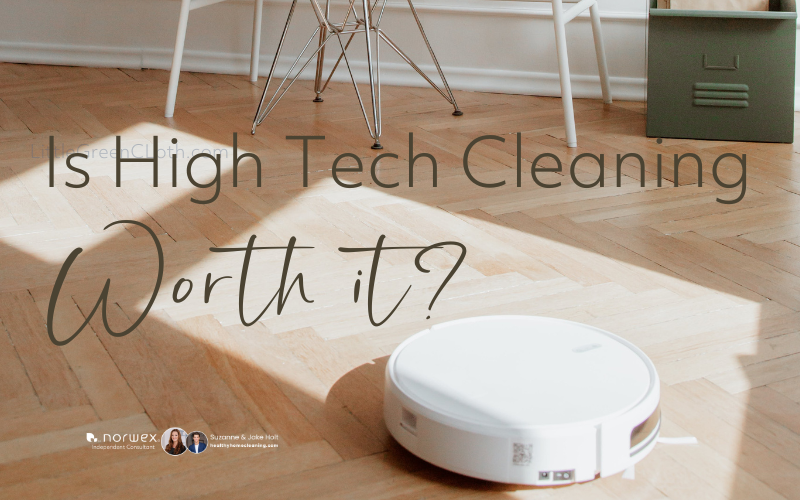 When it comes to floor cleaning, there are some pretty high tech products on the market! It's that time of year when the Black Friday sales have all the high tech cleaning gadgets on sale. Robot vacuums, floor steam cleaners, electric mops, and more! These devices promise to do all the hard work for you, and even at your own convenience! Of course, this is all for a higher price tag, but it's worth it, right? Let's take a few things into consideration before jumping in!
Cost
I'm all for cost-effective efficiency, but some of these devices are 10x the cost of the low tech option, and some of them are even more than that (NYTimes, 2023)! Robot vacuums especially have a variety of price points, up to over $1000. They have a lifespan of 2-5 years, going along with the price range (USA Today, 2023). Will you be up for replacing it that often? Is the convenience worth it?
Complicated
While you may want to upgrade for convenience, you'll want to look into the work required to maintain these gadgets, especially steam mops. They can clean up some pretty debris-heavy, gooey messes, but all of that does need to at least get rinsed out right after. On top of that, they have "auto-clean" cycles to run through, ensuring they stay in shape. Just look up a few videos from the manufacturers to see if you're up for being the maintenance guy for the machine.
Energy Dependent
Most of the time, we don't need to worry about not having a power source available. However, we all get forgetful at times so I wouldn't put it past myself to forget to charge the device. Usually, its not a problem- just plug in to get a little boost, but I wouldn't want it to be my only option. I think having a back up option would relieve some stress.
Repackaging an Old Trick
Have you seen the electric spin cleaning tools? They are a little bit of a new twist on an old idea – that abrasion or "elbow grease" is the the most effective cleaning technique. Yes, it works, but it's not getting to the root of them problem. Applying force works, but is that the only way?
Norwex- High tech cleaning, low maintenance care
When you're looking for something high tech, but low maintenance and cost effective, I love how Norwex finds the right balance. Norwex's microfiber is a high tech solution. This microfiber is not your usual ball of yarn! Each microfiber finger is 1/200th of a human hair. The microfiber also contains the BacLock feature, an embedded microsilver system that acts as an antimicrobial agent. It is intended to protect and self-clean the cloth by inhibiting growth of odor-causing bacteria, mold and mildew. The densely woven, superfine Norwex Microfiber physically removes up to 99% of bacteria from a surface using only water when following proper care and use instructions. How high tech is that?!
Even though the microfiber is high tech, it is low maintenance! Once it's reached the max use, just throw it in the laundry and it will be ready to use again. Each microfiber piece comes with a 2 year warranty and can last for 5-7 years with regular household use!
The price point on Norwex products is also a more cost effective investment. While $20+ for a cloth might seem like a lot, you'll be surprised how much you save by cutting back on disposable cleaning products! Even the mop, a $120 investment, pays off! It is the equivalent of a low end robot vacuum, but has a 5-7 year lifespan and much more versatile.
Norwex also has a line of enzyme cleaners. Instead of using chemicals, Norwex uses natural enzymes to break down messes so that cleaning is easy. No need to apply excessive elbow grease! Norwex has you working smarter, not harder.
Even if you take the plunge on some high tech cleaning devices this holiday season, consider adding Norwex to your high tech cleaning routine! Norwex products are reliable, durable, low maintenance, and cost effective!