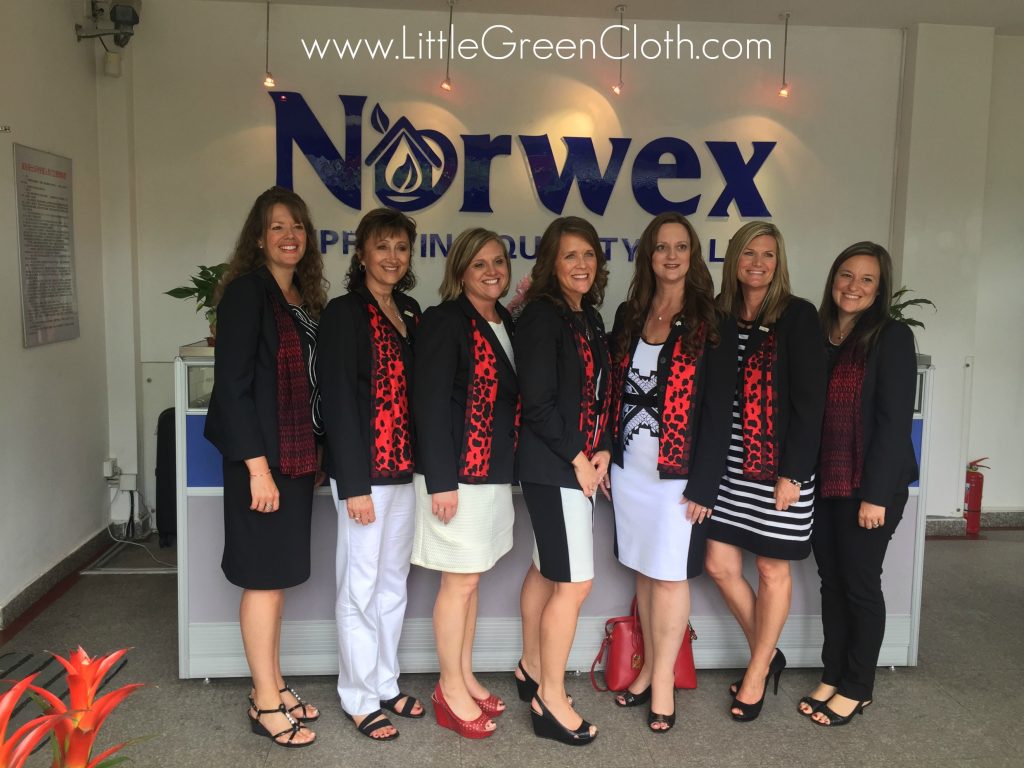 June 25, 2015 – This is the day we had been waiting for, the day we get to visit the Norwex factory in China! The excitement level was high! We boarded the mini bus for the factory and set out on a two hour drive. It was fun to see some of the countryside along the way to the factory.
Upon arriving at Norwex China, we were greeted by the staff and given a quick tour of the building. David spent some time briefing us on "why China?" Originally, our cloths were made in Sweden and contained 1.5 million meters of fiber. When we moved the factory to China, we were able to increase the amount of fibers in one enviro cloth to 2.9 million meters of fiber. Wow; what a difference! I remember years ago when the American sentiment seemed to be that "made in China" meant "cheap." That's not the case in 2015. China now is responsible for manufacturing some of the most top notch products we use on a daily basis, including one that many of us carry around all day – the iPhone. China has changed so much in the past 15 years and is now a modern country that contributes quality products and services worldwide. The area where Norwex has our factory is a famous textile area for knitting, dying etc. It's also a good location for transportation, a clean city, and a global economic development zone.
One thing I was excited to learn about was how we treat our employees in the Norwex China office and factory. Following are a few things that really impressed me:
Eivind told us that Norwex operates on a "work flat" concept – we are all equal even though we have different roles. Everyone is treated with respect as an individual.
Factories in China close from 1 – 3 weeks during Chinese New Year each year. It's typical for a factory to have up to 40% of their workforce not return to work after Chinese New Year. At Norwex, 100% of the employees returned in 2014 and just under 100% in 2015. That's amazing! That says a lot about how Norwex treats their employees that people would come back to work year after year when employees at other companies are quitting.
Norwex is part of the UN Global Compact that has a commitment to quality work conditions.
The employees are in a union.
Wages at Norwex China are at least 50% higher than the average for factory workers in the area.
Our employees were offered the option of either working overtime or having Norwex add a second shift. They wanted the overtime. Workers are paid 1.5 times their hourly rate for over 8 hours on a weekday, 2 times their wage on Saturdays, and 3 times their wage if they worked on a Sunday. Right now the Norwex factory is running Monday through Saturday.
The dormitory is complimentary for employees, but many do go home at least on the weekend.
Lunch and dinner are provided complimentary for employees with catering having five food groups per meal.
Norwex China hosts a family day each year and an annual outing for employees.
Employees receive generous safety bonuses. The factory has currently had more than 920 continuous days with no accidents.
We talked about the amazing Research and Development process at Norwex. Less than 1/10th of the products we start make it through our R&D process and into our product line. We want to make sure that the products are always high quality, high effectiveness, and fit within our mission.
We left this meeting with renewed amazement for Norwex, and a new confidence in why we have our factory in China and how it provides a higher quality product for our customers.
Come back tomorrow for details on the factory tour and lots of pictures of the process.
Thanks for stopping by!
~ Suzanne