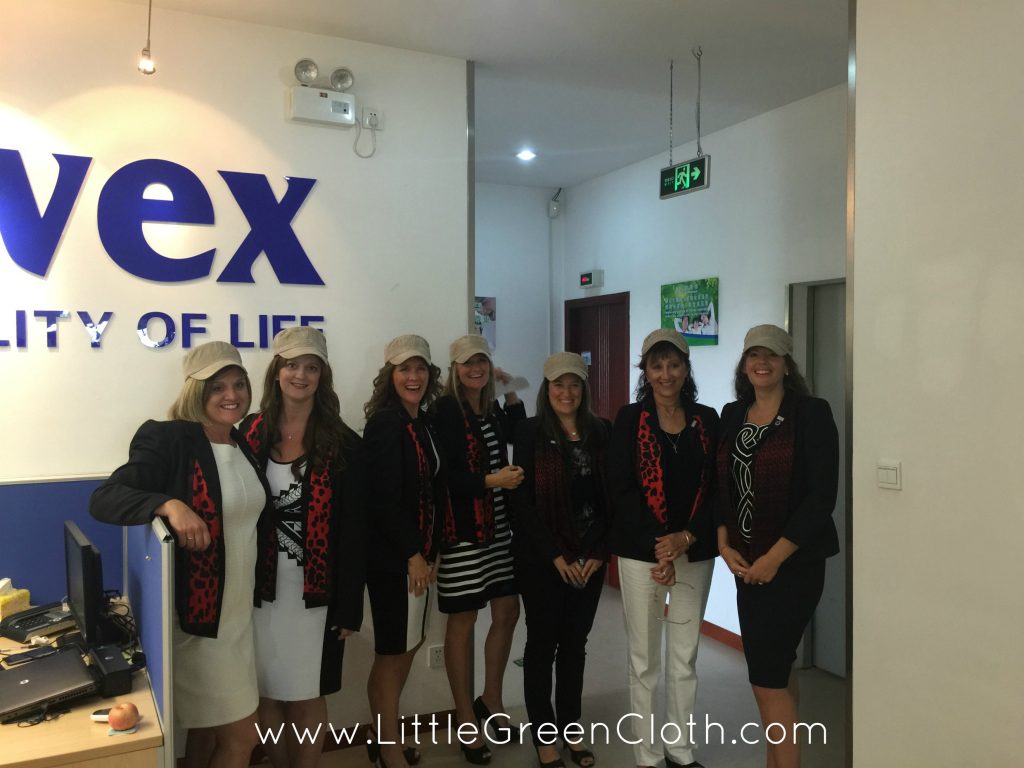 Wow; we had been amazed just hearing about why Norwex is in China, and now the moment had come – it was time for us to tour the factory and see first hand how the microfiber products are made! Step one was to put on hats that all employees must wear when in the factory. You can see us all here just prior to entering the factory.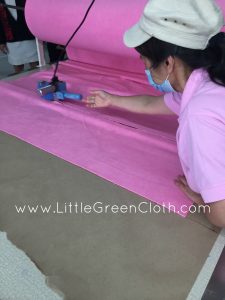 The first thing we saw when we walked into the factory was the huge bolts of Enviro cloth fabric. Employees were cutting the bolt to the right width and then using a template to cut each individual Enviro cloth.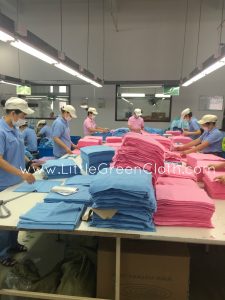 After the Enviro cloth was cut to size, it went to a table where employees were working under bright lights inspecting each cloth for quality. They were looking for even the tiniest imperfection in the weave of the cloth, and then those cloths would be discarded. Discarded cloths were re-purposed for other non-Norwex products that would be used elsewhere in China.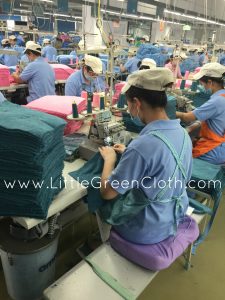 After the cloth passes the first layer of quality control, it then goes to an employee that serges the edges of the cloth and sews on the tag. I was so impressed that this is all done by hand. I expected that so much would be happening on large machines, but each cloth receives individual attention by so many individuals.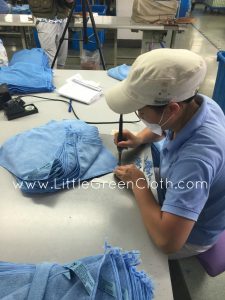 After the cloth is serged, it then is moved along to an employee that uses a tool to cauterize the edges on all four corners. It then is moved into a final inspection room where each cloth is inspected one more time visually and then goes through a metal detector to make sure no stray needles etc are accidentally left in the cloth.
The entire factory is extremely clean. There was someone moving about making sure no stray scraps of fabric were left on the floor. The factory was very comfortable. There were air conditioning units throughout the rooms keeping it cool and comfortable. Most employees had cushions they were sitting on, and David told us that employees are allowed as many drink and restroom breaks as needed throughout the day.
What a process! From the moment the cloth is cut from the bolt of fabric to the time it passes through the final quality control, each cloth is handled by a minimum of nine employees! That really reinforces the commitment Norwex has to providing the highest possibly quality products for our customers.
Thanks for taking the time to read more about my journey to China. Stop by tomorrow to see the BIG SURPRISE we received just after touring the factory.
~ Suzanne