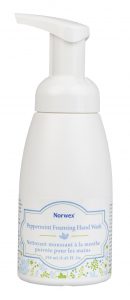 Did you know that hand soaps are not always good for your skin?  People often assume that just because the label says "Hand Soap" at the general store, that it kills bacteria and helps your body. That is often not the case anymore. Companies are always trying to find ways to reduce production costs and promote sales, though quality and customer satisfaction are not exactly at the front.
General hand soaps from the store include many of these substances:
Sodium Lauryl Sulfate
Parabens
Synthetic Dyes
Synthetic Fragrances
Triclosan
Phthalates
Polyethylene Glycol
Gluten
Petroleum Products
Animal Ingredients
This is where Norwex comes in. Norwex JUST introduced a Peppermint Foaming Hand Wash that not only kills cleans your hands, but also moisturizes and soothes your skin!
Check out the environmentally friendly ingredients in the Norwex Peppermint Foaming Hand Wash:
Peppermint Oil
Coconut Extract
Apple Extract
Panthenol
Allantoin
Aloe
These ingredients work together to soothe the skin as well as clean deep. The soap dispenser is reusable, which reduces waste and is completely free from BPA and phthalates. This product was never tested on animals, and has absolutely no animal ingredients! The soothing Peppermint scent leaves you feeling calm and relaxed, while the soap is doing the entire deep cleaning on your skin.
Since the soap is foam, a little definitely goes a long way! You will find that your family will use LESS soap to clean your hands, and the bottle will last significantly longer than general hand soaps.
A larger refill bottle is also available for purchase, saving you money and reducing waste in your home and the planet. This soap is actually good for your skin!
Check out the short video below:
Interested in trying it for yourself?  You can purchase the Norwex Peppermint Foam Soap HERE or contact me with any questions.
Have a wonderful day!
~ Suzanne