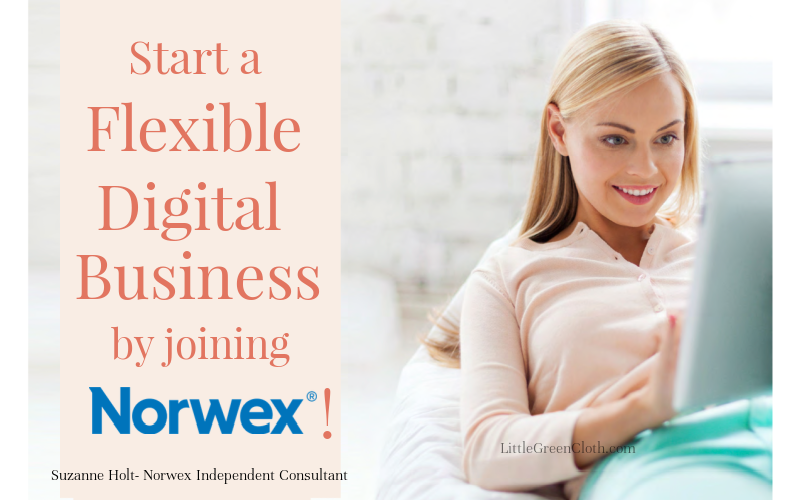 In our modern life, flexibility is key to getting everything done for work, family, and home. Running a digital business can provide a great deal of flexibility!
Running a digital business allows you to work remotely – anywhere there is Internet! Got a busy family life? No problem. Manage your time around your priorities. Throw a load of laundry in before checking emails, or start fixing lunch while on a call. Post in your online parties while waiting at hockey or soccer practice.
Do you need a side gig with minimal start up costs? Digital businesses can often be fairly cost effective to run because you can use so many free or affordable platforms, like social media. Norwex is making it even easier by giving new consultants six months of Office Suite for FREE when you join before September 1, 2021.
When it comes to starting your digital business, Norwex is an amazing company to join in on! They have so many resources for consultants to succeed! The Norwex New Consultant Starter Kit includes everything you need to start your business on the right foot! The only upfront cost is $9.99 in shipping and handling. The kit will be FREE when you reach $1000 in personal sales in the first 30 days OR $2000 in the first 90 days. If one of these goals is not met, the cost of the kit is $200. I love that Norwex has 2 ways to earn the kit for free!
Just a few of the benefits include:
35% discount on Norwex product
35% income received on all product sold
the ability to work remotely from home
the chance to earn a flexible income that works for you and your goals
a rewarding job that helps others and our world live more sustainably and in better health!
Norwex is also supporting their consultants with so many FREE digital tools so they can get the most reach and use an efficient strategy while using convenient digital platforms! As a consultant, you will have your own personal website, customer reporting, monthly customer newsletters, catalog mailing program, mobile app to create personalized graphics, and an interactive personal party platform! From now through September 1st, consultants will receive 6 months of Office Suite for FREE and you can upgrade to Office Suite Plus if that fits your needs better! I love that Norwex provides so many channels to give you a strong start!
Are you ready to become a Norwex consultant? Join Norwex today!
Still have some questions? Don't hesitate to ask or check out my FAQ page!