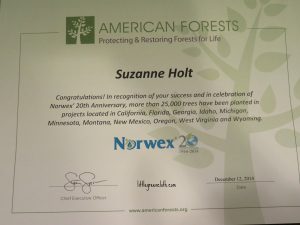 Recently I wrote about how Norwex decided to recognize it's top salespeople by planting trees in honor of their accomplishments.  I was so excited to receive my certificate in the mail today from the American Forests recognizing the fact that trees had been planted in my name by Norwex.  As a result of this incentive, Norwex planted more than 25,000 trees in California, Florida, Georgia, Idaho, Michigan, Minnesota, Montana, New Mexico, Oregon, West Virgina and Wyoming.
I love being a part of a company that is constantly looking for ways to make an impact on the world!  The fact that they allow consultants to work toward goals that help accomplish this is the icing on the cake.
Want to learn more about how you can join the Norwex movement?  Read all about our consultant opportunity HERE, or CONTACT ME for a no-obligation, pressure-free discussion on how Norwex may fit into your life.
Thanks for stopping by!
~ Suzanne