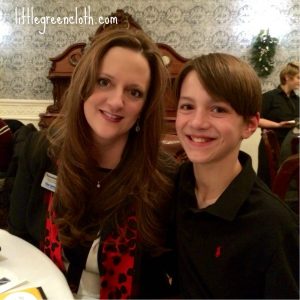 My 12 year old son loves Norwex; he really does.  He asks regularly when he can join my team and start officially sharing the products and business opportunity.  He asks me questions about my business and team, and he thoroughly understands the Norwex compensation plan; he even debates the specifics with his brother!
Recently, I was invited to attend a party for another Norwex leader and spend a few minutes speaking.  It was my son's birthday, so I gave him the choice of us either having family time at home, him attending his church youth group with friends, or he and I attending the Norwex function together.  I told him it was completely up to him.  He came home from school one day and said "I told my friends that I'm going to a work thing with my mom on my birthday so I won't be at youth group."  What a kid!
On the drive to the event, I was practicing my speech while someone else drove, and when I finished the first run-through, my son said "wow; that's an amazing story!"  That really touched me.  MY story…my "why" behind joining Norwex…that was the story he thought was amazing.  He has been a part of this Norwex journey for our family for the past six years, but for some reason hearing it told all at once was a "wow" moment for him.
My kids would have no idea how much money I make with Norwex, but they do know that my work has an impact on thousands of people.  They know that each time I go out the door to do a home party or lead a team meeting, each time I'm on the phone coaching a new consultant, that all of those things are helping spread the message of reducing chemicals in people's homes.  They think that is important, and it's something they are proud of.  They are very proud of my Norwex career.  Norwex is a message they believe in, and something they are passionate about even at their young ages.  I love that my kids find value in what I do.  It thrills me that they are proud of me, and it makes me prouder than words can convey that my 12 year old son wants to talk about my business and be involved in it.
Norwex has provided my children the opportunity to interact with corporate officers on a global scale.  They know how to look an adult in the eye, shake hands and introduce themselves.  They've attended meetings where they have spoken in front of more than 100 consultants.  My son Jacob is so comfortable with Debbie Bolton, one of the founders of Norwex USA, that he talks to her just like he would a friend.  It's an amazing opportunity that Norwex has provided for my family, and I'm very grateful for that.
Are you looking for a career that your family can be proud of?  Would you like to make an impact on those around you?  Would you like your work to create a ripple effect of change that spreads throughout the United States of America and beyond?  CONTACT ME to learn more about the Norwex Independent Sales Consultant Opportunity.  I would love to welcome you to our team and help you become a part of the Norwex movement!
~ Suzanne