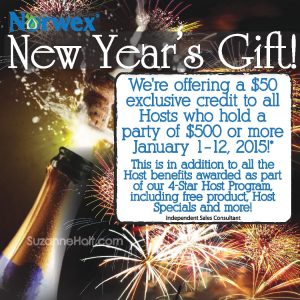 Have you already started making your New Year's Resolutions? What are you committing to do in 2015? In 2014, USA.gov identified the most popular New Year's Resolutions to be:
Lose Weight
Volunteer to Help Others
Quit Smoking
Get a Better Education
Get a Better Job
Save Money
Get Fit
Eat Healthy Food
Manage Stress
Manage Debt
Take a Trip
Reduce, Reuse, Recycle
Drink Less Alcohol
Are any of these on your list? How many times have they been a resolution? I can't tell you how many times the "get fit/eat healthy" one has been on my list…but I can tell you that its usually on the list the following year.
If managing stress, spending more time with family, or reducing and reusing are on your list this year, then Norwex can help you get off to a strong start. If you host a party between the dates of January 1-12, you will receive an additional $50 shopping spree with a qualifying party. This is in addition to all the other benefits that hosts will receive in January (MOP MONTH!!). With all this extra product, you won't have to stress about cleaning up after the holidays. Let our awesome Norwex products do the hard work for you so you can spend more quality time with your family and less time trying to figure out what chemical will do the trick. And of course, our products are a great solution if being greener is your goal this year.
This New Year, I hope that you achieve your goals so you can have a better quality of life in 2015!  Norwex does too!  After all, our mission is to "improve quality of life by radically reducing chemicals in our homes."  I'm excited to see what 2015 will bring!  I know what it will bring with a Norwex party between January 1-12!
CONTACT ME for more details; I look forward to helping you Norwex your home for FREE!
~ Suzanne