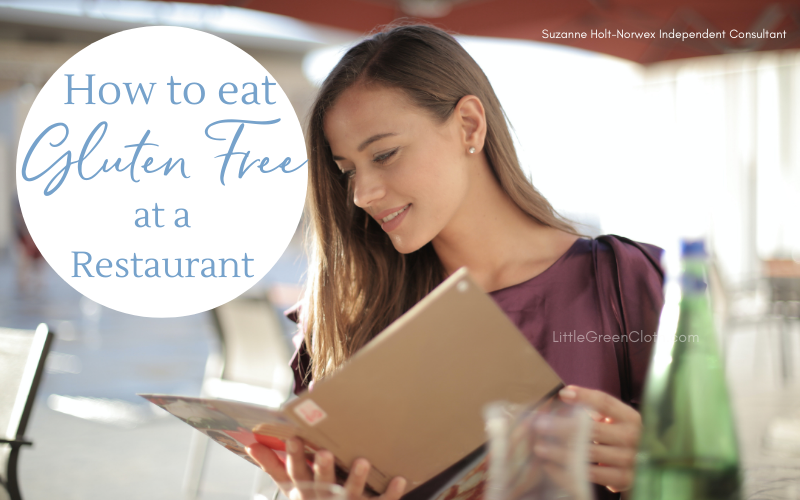 Once you become gluten free, you might wonder how do I eat at a restaurant while gluten free? Eating out at a restaurant is so nice to do on occasion. It's relaxing, gives you an opportunity to talk with your spouse or family, and you can have something you may not otherwise have for dinner. When you must eat gluten free foods, eating out may not be so easy. Even though it can be a challenge, here are tips for eating out with this in mind:
Ask the right questions. Eating gluten free foods at a restaurant can be SCARY because you just never know if you can trust the chef and other employees to do what needs to be done to make sure it's completely gluten free and not cooked alongside or in something that was also used for a non-gluten free product. While this may be difficult, don't be afraid to ask all of these questions.
Call or check out the restaurant online. More and more restaurants are adding gluten free meals to their menu so it's easier for those that must be careful to have the ability to eat out as well. To find out if your favorite restaurant has this type of menu, I recommend that you call your location. Sometimes what one location does is not the way another location does it, so it's better to check than to assume and find out after it's too late that you can't eat there..
Decide ahead of time what to order. Another way to be certain you can eat at a specific restaurant is to know what they serve; this will help you to plan what you can have before you get there. Eating gluten free foods may not allow you to eat at certain restaurants, but when you look at the menu ahead of time you'll know for sure.
Let your server know. If you're uncertain if a meal is gluten free and would have no cross contamination, it is important to ask If questions. Make sure that your server knows you have an allergy to gluten (wheat) and make sure they understand that it's important for you to find meals that in no way contain this item and that no cross-contamination could be possible. When your server and the chef knows your situation, they'll help you to find a meal that you can have to eat. It is also a good idea to speak to a manager and make them aware of your allergy.
It can seem intimidating to go out to a restaurant when you have a food allergy, and you may feel limited in what you can eat and where you can go to eat. Once you know how to eat at a restaurant while gluten free, you'll feel much freer to continue regular like rhythms and enjoy. When you're informed, and when you know what questions to ask, and you know for sure you can have, going out to eat at a restaurant won't be that intimidating.
What steps do you take to make sure your food is safe when eating out??
Thankfully, Norwex products are all gluten free so you don't need to worry about ingredients and can safely shop the brand!