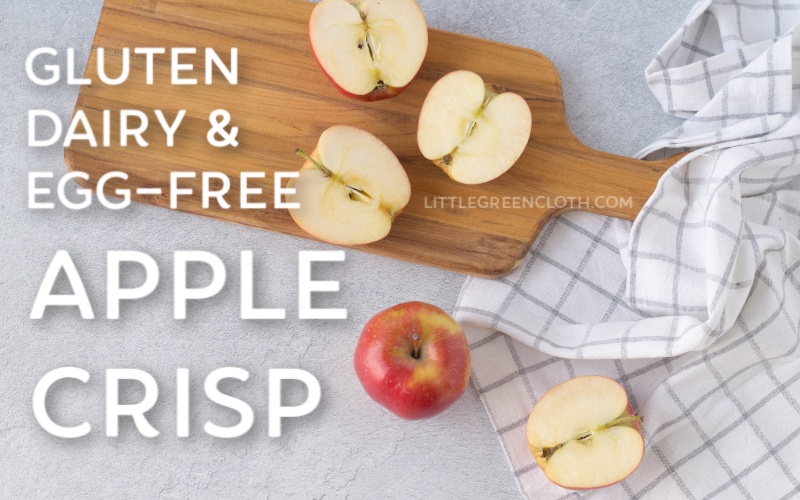 I love this time of year! The air is starting to turn a bit cooler, the leaves are showing their autumn glory, and the harvest season is upon us. One thing that I love about this time of year is apples fresh from our apple trees or the local apple orchard.
I've never made homemade apple crisp before tonight. I used to love to make homemade apple pies, but haven't even tried that since our family removed flour from our home. We decided tonight to try making an apple crisp free of gluten, dairy and eggs. It turned out pretty amazing!
If you have read my gluten free dairy free cheesecake recipe, you know that baking is not a strength of mine. When looking for an apple crisp recipe, I wanted something simple. I found a very quick and easy recipe on the Betty Crocker website for a Gluten-Free Apple Crisp. We modified it a bit to make it free of dairy and eggs.
The recipe called for the following, but be sure to read my notes below on how we modified it to make it free of dairy and eggs:
Apples:
6 large tart cooking apples, thinly sliced
1 teaspoon ground cinnamon
Topping:
1 box Betty Crocker(TM) Gluten Free yellow Cake Mix
1/2 cup chopped nuts
1/2 cup butter, softened
1 teaspoon ground cinnamon
1 egg, beaten
The recipe said to:
Heat oven to 350 degrees F. In large bowl, toss apples and 1 teaspoon cinnamon. We modified this by using 8 large apples and 1/2 teaspoon cinnamon. We then spread the apples evenly in an ungreased 9×13 inch pan.
In a large bowl, it was recommended to mix the cake mix and nuts. We decided to eliminate the nuts to make it more allergen free. With a fork, we then cut in the Earth Balance dairy free butter until it was crumbly.
We didn't want to use eggs, so we used the Ener-G Egg Replacer and mixed that with 1/2 teaspoon cinnamon (again reducing what was recommended).
We then combined the egg replacer and cinnamon mixture into the cake mix and dairy free butter. We mixed well and then sprinkled evenly over the apples.
The recipe called for it to bake for 45 minutes, but we found that ours took about 50 minutes before the apples were soft.
The apple crisp was amazing, and it was the first time my husband has been able to eat it since gluten free so many years ago.
Please let me know if you make this and how you like it! Thanks for stopping by!
~ Suzanne
Here's more pictures of the process and ingredients: