Part 13 in Gretchen's Journey
I must say I was skeptical at first about the time savings claims that Norwex consultants make.
Clean better in a shorter amount of time? Sure; sign me up!
Having changed over to Norwex cleaning products, I can vouch that this is true.   I guess I better explain – this does not exactly include the tub/shower or the floor, but you would only need to add 10 more minutes maximum if you used Bathroom Scrub Mitt and the Double Sided Mop.  Since I tend to not clean those every week, for today's purposes I am simply focusing on cleaning the sink, mirror and toilet areas.
Here are the magic ingredients: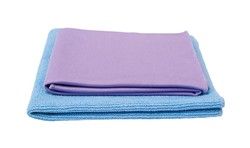 First; the Basic Package.  With one Enviro Cloth and Window Cloth, I cleaned the sink, mirror and toilet.  In that order.  First, I wet the Enviro Cloth to scrub the sink, then used that cloth to wipe down the mirror, then follow with the Window Cloth.  I wiped down the toilet with that same Enviro Cloth.  Voila!
Because I like to thoroughly clean the inside of my toilet, I added a little Blue Diamond Cleaner.  You could just squirt it right on, but I prefer mine to be diluted to last a bit longer.  My Norwex spray bottle works magnificently for this!  I also think the Ergonomic Toilet Brush and Holder is also essential.  If you prefer to have the toilet bowl cleaner as a part of the brush, you can use the Norwex Sanira Toilet Brush System instead.
When cleaning more than one bathroom, you may want to have an extra Enviro Cloth so that you are not scrubbing the bathroom counters after you just cleaned a toilet in another bathroom.  That is rather icky.  Possibly I should have titled this "Six Products for Cleaning the Bathroom."  If you want to also clean the shower and floor – maybe eight products?   What can I say?  I like my Norwex cleaned bathroom!
One last suggestion: if you have cute little helpers like I do, you may want to add the Blue Diamond Cleaner on their behalf.  Not that I would be uncomfortable with my kids using the Blue Diamond, but you may just want to have the cleaner last longer than just one time.  My kids tend to apply product a bit more liberally than is necessary, rather than recognizing that a little goes a long way.
The result: a sparkling bathroom!
Thanks for continuing on my Norwex journey with me!  What's the most difficult room for YOU to clean?
~ Gretchen