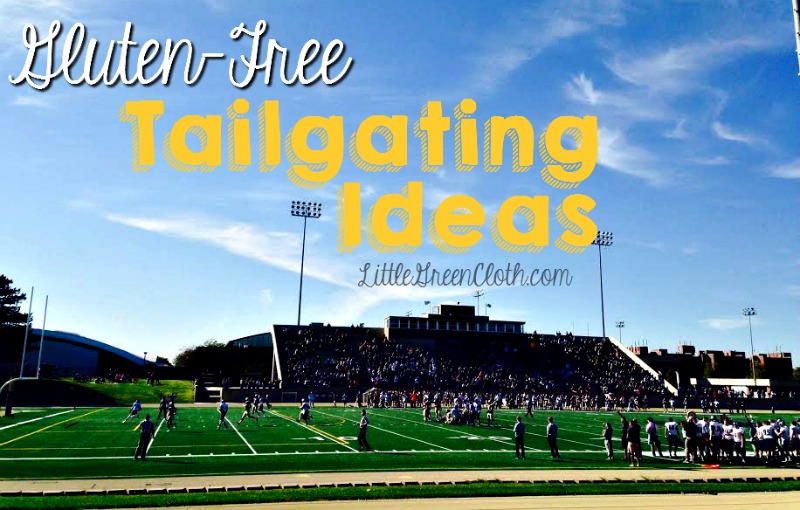 Football might be synonymous with the changing of the leaves.  In fact, until you have cheered on your favorite team on the gridiron, is it really fall?  At the beginning of the season, eating outdoors does not seem overly fun.  Who wants to be eating in a parking lot in the heat of late summer?  Now that we are nearing the middle of the season, the smell of the grill is a bit more enticing.  But what if you are need to tailgate gluten free?  Eating the wrong food at a tailgate party might just cause you to miss the game due to not feeling well.  While tailgating gluten free takes some effort, this post will hopefully taking some of the guess work out of tailgating gluten free.
First of all, grilling utensils.  I recommend bringing your own.  In fact, you will see this emphasized repetitively!  Why?  Cross contamination.  Touching anything with gluten then even grazing your food makes it instantly inedible for you.  Being there when the food is prepared is probably a good idea!
Drinks: Most are going to be fine, at least for non-alcoholic drinks, but always check ahead of time.  I've been amazed at how even some of our previously favorite flavored water have gluten in them.  If beer is on your tailgate grocery list, I've been reading more and more about gluten free beer and ciders.
How about those side dishes?
Chips & Salsa: the fewer the ingredients, the better.  Many basic tortilla chips are gluten free, but always check your labels.  Start adding seasonings, and you may not be so lucky.  One other potential problem is cross contamination – other guests grabbing a handful of chips right after loading up their bun with their hot dog.  If you just have a sensitivity, this may not be an issue, but if you truly gluten intolerant, you may benefit to bring your own bag and keep it in your car.  The same can be true of salsas. While gluten free usually, touching the salsa spoon to a seasoned chip may not have good results.  Going through the line first may be the best answer.
Salads: Tossed greens salad: usually a safe bet.  Dressings?  Depends on the kind.  Commercial coleslaw and especially potato salad might very well use a flour base as a thickener.  Label reading is the key.  Or make your own to contribute.
Bring on the meat …
While you do have to watch out for certain processed foods, such as hot dogs and sausages, most plain beef is naturally gluten free.  Be careful of chicken or turkey; many companies inject a broth into them and the broth often contains gluten.  What can cause the biggest problem for meats?  The marinade.  You may want to hand out this versatile recipe to your friends – easy to make, easy to adapt.  If someone would happen to be grilling a breaded item. such as chicken, you would also need to bring separate tongs.  Picking up a floured piece of meat first might mean no more steak for you.  That would be quite sad!
One other fun option is serve meat on grilled pizza.  You would need to bring your own crust and your own tongs, but freshly fired pizza is worth the effort!
Desserts …
Sorry – almost every dessert at a tailgate has flour.  The one easy exception: S'mores.  Simply bring gluten free graham crackers.  The marshmallows are usually gluten free, along with most chocolate.  Again, you will need your own roasting stick or tongs.  Since people automatically slide their marshmallow on to the cracker, all of those bits of gluten would stick to your now roasting marshmallow.  Grilling fruit is also a fun dessert!
To help aid you even further in enjoying tailgating gluten free, I have created a special gluten free Grilling and Tailgating Pinterest board.  Occasionally the pins have multiple recipes, so I have noted the ones that are NOT gluten free.  Also on the pins, I have noted if there are any particular ingredients where you need to really carefully read the labels.  Now you can enjoy tailgating again – even if you are gluten free!
Enjoy the rest of football season!
~ Suzanne