Part 7 in Gretchen's Journey
Usually when a person thinks of recycling, aluminum cans or milk jugs come to mind. Throw in a few newspapers and that was our family contribution to saving the planet. When Suzanne introduced me to a new word yesterday, I realized that we had actually been recycling in another fashion all along.
up•cy•cle: verb (used with object), up•cy•cled, up•cy•cling.
to process (used goods or waste material) so as to produce something that is often better than the original (from www.dictionary.com)
We live in an older house, so this process has worked well to actually add charm and character to our home. This has been particularly true in our bathrooms.
Now our upstairs bathroom piece is possibly not truly recycled, although my husband did find a new use for an old board. To add interest, he decided to purposely leave the edge on the board. Then he built the lower part of the cabinet out of leftover pieces of wood. Due to the walls not exactly being straight, this vanity maximizes our space.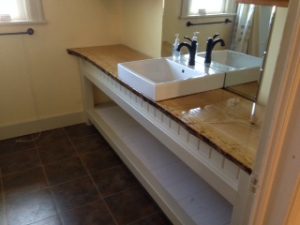 When we were newlyweds, we used to annually attend a flea market in a nearby small town on the 4th of July. One year we picked up possibly an old washstand. With a little bit of polish and shine, we transformed the small wooden piece into our changing table. Now that our four kids are past that stage, this is now our main floor bathroom sink.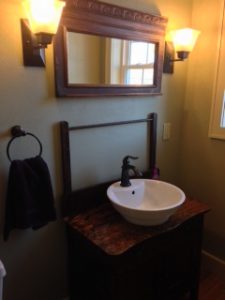 For above the sink, we needed a mirror that would reflect a similar style. My husband used parts from an old piano to fashion a unique piece. For some reason, my grandparents were storing these pieces in their attic at one time. He put them to good use.
Also on our main floor we have used two ladders in unique ways.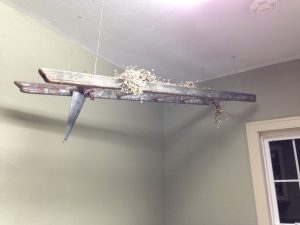 A rickety ladder has become a display area.
This more sturdy ladder was one that my husband's work was going to throw away. But we think that it fills our corner nicely. Holding our antique fan (also rescued from the garbage) and other decorations, this has been transformed into an interesting shelving system.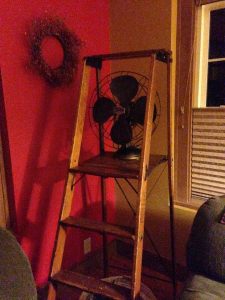 On to the basement where an old dresser formed that sink vanity. This used to be in our daughter's room, but the drawers were not really deep enough to hold enough clothes. Especially when she becomes a teenager. The bottom two drawers are still functional and are perfect for holding towels and personal grooming products.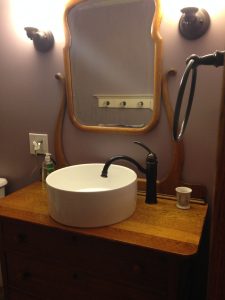 Our towel rack was also upcycled. My father-in-law made this on my behalf using old crown molding and door knobs. I have loved it so much that it has moved with us so far.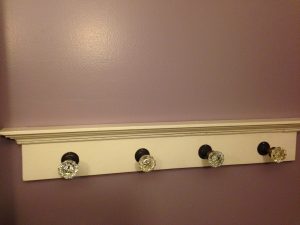 One more basement item is our family room mirror. The panes in this antique mirror were covered with mirrors. I love how it visually expands our room.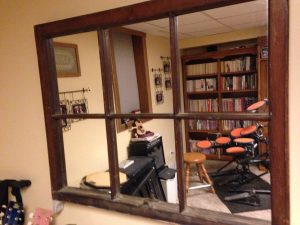 These are several examples of ways that you can upcycle. To be honest, I am just the recipient of these items. My husband is the truly creative one who transformed our house with so many unique showpieces. Thankfully he is as loving as he is creative – I am definitely a very blessed woman!
What items do you have in your home that have been re-purposed?
What do these pictures inspire you to create for your own home?
~ Gretchen