Part 6 in "Gretchen's Journey" where she delves into the idea of cleanliness without chemicals…
Selling a house is a daunting challenge.  Add children to the mix, and this might be an impossible feat.  This is exactly where we are at currently.  For the most part our children have been troopers throughout this tedious process, but getting ready to have our house open to viewers has still been daunting.
Our first showing happened to fall on a morning when everyone else was gone.  I actually had some place to go also, but I got to be the one to miss my event.  (Hey, my husband has used all of his vacation time remodeling, so I really cannot complain too much).  After frantically straightening, I was almost done. Except the kitchen.
Naturally, the potential buyers arrived early.  Thankfully my husband was back in time to start showing them around.  Sending them upstairs, I tackled the kitchen, but then, there was the SINK. Several weeks ago, I talked about the fact that while feeling clean, silver streaks still ruined the appearance of my ivory sink.  My tub of Cleaning Paste had arrived by now, and I had used to clean many an item successfully, but I had not gotten back to the sink. With moments before a couple was going to be examining my kitchen, I put the cleaning paste to the test.
Here's my sink before the Cleaning Paste: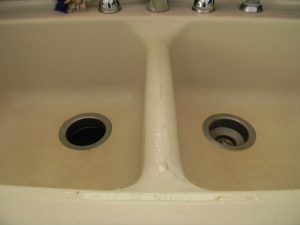 And after the Cleaning Paste…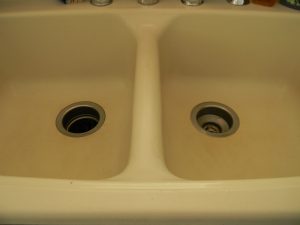 Wohoo! If you look really closely, a few minor silver lines are still visible, but for the most part my sink finally looks as clean as it feels! Using an Enviro cloth to apply the paste, my sink only took a minute or two to wipe down. Actually the sink has seemed to stay cleaner since then and much easier to keep looking nice.
I cannot imagine going through this intensive cleaning process without my Norwex products. I look forward to showing you more results. At least mostly – I think am also slightly embarrassed to realize just how many items I thought were just worn were actually just dirty. You'll see what I mean in the weeks to come!
~ Gretchen