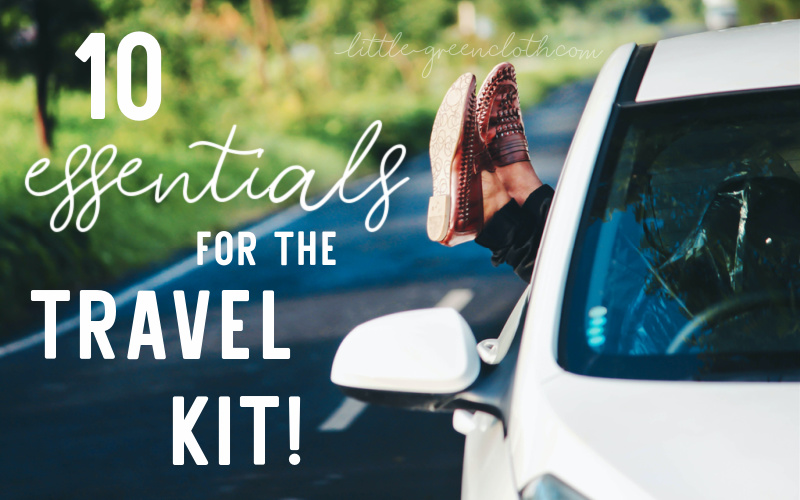 When I was a new mom, at times, I would watch other moms with amazement at their car travel kit! How did they become so prepared to have on hand whatever their child seemed to need? Now that I have been a mom for over a dozen years, I do think that I have gradually become more resourceful. Yet as my kids have gotten older, we have started to spend more and more time driving around to different places. Part of being ready for almost anything involves having a kit in my car that helps me to have needed supplies on hand. If you have not taken the time to make your own car travel kit, I hope that these ideas will help you to transform into being more prepared yourself.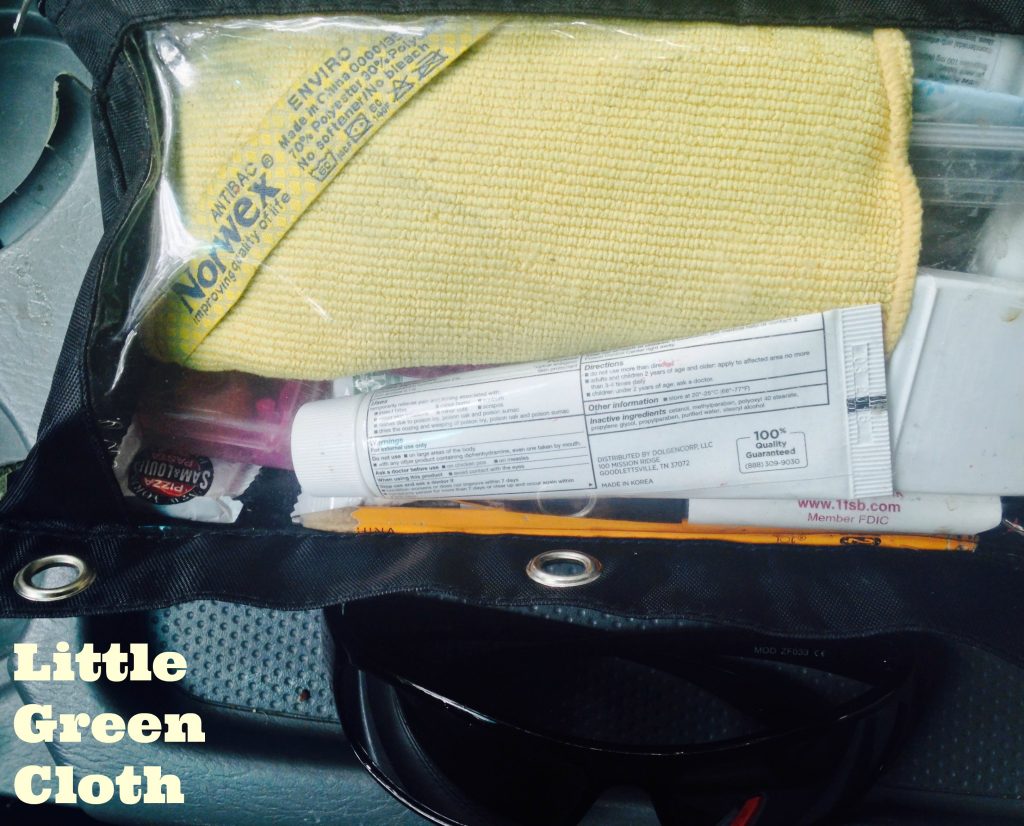 The first thing for your car travel kit is a container to hold your supplies. You may want a container with a lid. Because of how my vehicle is set up, a zippered bag seems to work best. I actually use a zippered pencil bag – the nylon kind, rather than a plastic one. Perhaps you want one large container, but for our family, we actually have two smaller bags because they seem to store easier in between our front seats. Below are some of the items that permanently take residence in our car in either the small bag or in the door pockets.
First Aid kit. With having boys in our house, bandages are a must. So is some type of ointment cream. Because my kids are older, we also have headache medicine for both kids and adults in "childproof" bottles. When they were younger, I probably would have kept that type of medicine in a less accessible place to keep my little ones safe. Now they know enough to not get into medicine without permission. Because of wanting to be covered in supplies, we have a separate bag for all of the bandages along with plastic gloves and a road flare. Just in case … 🙂
Enviro Cloth Travel Packs Whether you keep all four with you or just bring one or two, this cloth might be as important as the first aid kit. For one thing, if you have an injury and do not have accessible soap and water, you can help protect from infection. The BacLock™ quality is a crucial one. Plus having a cloth handy that will not get stinky every time you wipe up a spill is also a must.
Timeless Natural Hand Cleaner Being able to wash your hands when a faucet is not nearby is a must. Did you know that hand sanitizers contain alcohol that dry out your hands? By keeping this Norwex hand cleaner in your car, you are ready for those not-so-sanitary situations yet are not having to have alligator skin at the same time.
Bug spray. At the rate this summer is going, I may just end up looking like a giant mosquito bite. Having this readily available in the car is a good idea. Look for a "natural" product to avoid as many chemicals as possible. As always, a spray bottle is better than a pressurized can.
Sunscreen. Obviously I am not wanting to endorse any particular brand since Norwex does not have their own line of this yet. Recently in the news, they have talked about several reputable companies maybe do not have as good of a product as they have advertised. This definitely needs to be quite accessible during the summer months, but if you are playing outside during the winter, remember that "snowburn" is also quite likely.
Mediterranean Moisture Aloe Vera Face and Neck Gel: Forget to apply sunscreen? This works great to hydrate and soothe sunburns. Apply where needed.
Timeless Lip Balm I think I must lick my lips when I am driving sometimes – they definitely seem to get dry quickly. Having a separate lip balm in the car is a good idea. But … do make sure that your lip balm is not repeatedly exposed to the sun – that gives a new meaning to "hot lips" and "melty mess." Depending on where you live, this one maybe should stay in the car only in the winter.
Floss. Sometimes toothpaste and a toothbrush. But definitely the waxed plastic dental floss. Having to put up with something stuck in your teeth is not enjoyable or nice for your companions to observe.
Pens/pencils/paper. Having writing material available always seems necessary. Also a pair of scissors kept securely in your glove box to avoid injury. Over and over again, I have needed to have scissors – definitely a worthwhile travel buddy.
Kids Window Cloth Since their little fingerprints are the ones smudging up the glass, why not let them get excited about cleaning up the windows? You may want to keep this one out of their reach, or the cloth could have a multitude of uses.
How about you? What essentials do you keep in the car with you at all times?
~ Suzanne