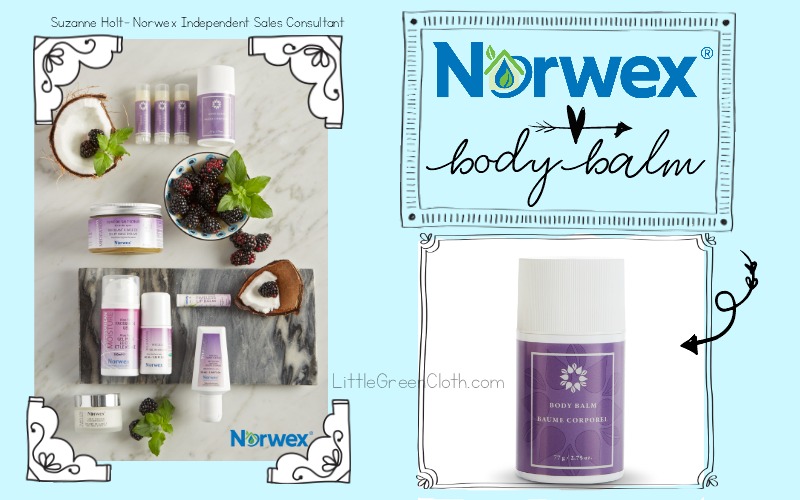 Has winter left you in rough shape?
It doesn't seem to matter if you are inside or outside, the cold air finds a way to suck all the moisture out of our skin, leaving our knees, knuckles, elbows, heels, and cheeks chapped, dry, maybe even cracked. Most often, the solution for these areas is goop-y, messy petroleum-based products. Skin is your largest organ and the body's first line of defense. In trying to heal these vulnerable areas, have we considered if these petroleum-based products are the best solution?
Norwex Body Balm is made with USDA Certified Organic Ingredients
Norwex uses organic ingredients in their Body Balm so it is free of  harmful chemicals, gluten, parabens, petrolatum, aluminum, mineral oil, and synthetic fragrances and dyes. All toxic ingredients that you don't want seeping into your vulnerable skin! Instead, Norwex makes their Body Balm with ingredients like USDA certified organic Sunflower Seed Oil, Castor Seed Oil, Shea Butter, and Beeswax. Plant-based ingredients grown without chemical fertilizers and pesticides are much more appealing for a skin care regimen than ingredients that have been part of the oil refining process.
Clean application and invigorating scent
The Body Balm's thick texture is easy to use with the push up applicator, no more globbing petroleum-based products around! It also has a citrus-y, minty aroma because of the Spearmint and Orange Peel Oil. You can now look forward to treating your dry skin, thanks to this blend. Check out the video below to see the Body Balm in action!
Are you ready to starting treating your dry skin like it should be treated? Shop the Norwex Body Balm today!