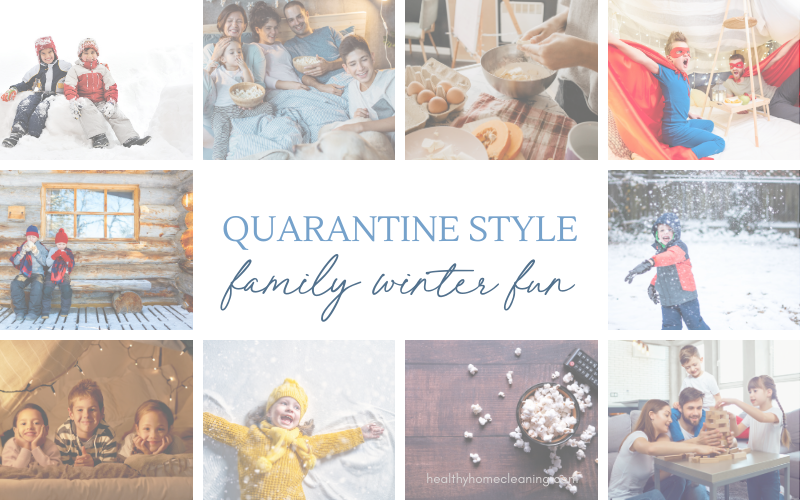 It's that time of year, where we enter "the long haul" of winter after the holidays. With families closer together in their homes and trying to stay warm from the chilly outdoors (if you live in the northern US as we do), the days (and months!) can feel long! No need to worry, I've got some ideas for a few fun activities to keep the kids entertained, the teens occupied, and the parents happy!
Winter Fun for the Kids
While my own children are older now, I remember the days where it was hard for them to stay entertained, especially between parents working all day. With quarantining happening all over the world, restless little kiddos will need some exciting and safe things to do around the house. Here are three ideas you'll love for guaranteed winter fun:
Play Outside
Outside play gets your kids moving and releases any pent-up energy in their little systems! In snowy Minnesota, there are opportunities to take them sledding at a nearby hill or have an epic snowball fight. And don't forget the snowman! (or get creative and turn it into a snow kitty)
Make a fort
The benefit of this activity is that it keeps the kids preoccupied for a LONG time! All you need are some blankets, pillows, and chairs to make a cozy fort for them to hang out in!
Marshmallow/Noodle Sculpture
Instead of using the standard clay or Play-Doh, have the kids get creative with some items from your pantry. A simple out-of-the-box idea is a bag of marshmallows and uncooked noodles. By attaching these two food items together, create a challenge for your kid to make the tallest sculpture possible, and measure it (this math component makes you a superhero parent, too). If you have multiple children, you could even make it a competition!
Entertaining Teenagers this Winter
With your teenagers at home, while they can manage on their own (for the most part), sometimes they need a productive boost. Distance learning does not help with the screen time either. After a day's worth of Google Meets and online assignments, the last thing I want to do is see them plop down in front of the tv or video game system. Let's get the teens in on the winter fun too!
Make a Bucket List
Get out of the "2020 funk" and into excitement for the new year! Work on a list for the winter specifically, or go all out and create one for 2021 as a whole. Some teenage girls I know have done this, and included on their list are ideas such as winter bake-offs, skiing, and ice-skating!
Get Crafty
Getting crafty is a perfect solution to feeling productive and relieving any stress from the school day. Whether they get inspired by a DIY on social media, or if they pull out some paints and colored pencils, getting crafty will definitely bring out the artistic side of your teen.
Learn a new card game
If your family is anything like mine, you may own multiple decks of playing cards, but only know the basic games such as "War" or "Go-Fish." Suggest to your teenager to learn a new card game to share with the family. Some popular card games right now are "Speed" and "Slapjack." Let them take cards to the next level, and learn a new magic trick to showcase to their parents, or stump a sibling.
Keep the Whole Family Engaged
I think we all can agree that the current global pandemic has ensured extra family time for the better or for worse! By this point, maybe your household is getting restless from the same old, repetitive activities from the past few months. Add some fun to your weeknights and weekends this winter with these ideas:
Game night
Bring out the competitive side of every family member with this one! You could have fun setting up a game tournament, or by devoting a weeknight/weekend to playing different board games. Another possibility is to play a game with grandparents over a Zoom call. The game developer "Jackbox Games" has some hilarious ones bound to get lots of laughs out of every family member. There is a small fee involved with this idea. If you go to the webpage jackboxgames.com, you can easily buy whichever party pack best suits you and your family
Family book club
Literature is a fantastic way to indulge in a story without having to look at a screen. Pick out some books as a family and decide on a few to read over the winter. Then you and your family can discuss what you've read each week, and connect to each other through the story.
Movie Marathon
While this may be a classic activity, it never gets old. Pick out some movies you have been wanting to see, or a series of movies you've been dying to rewatch! Maybe you could even convince your kids to watch your favorite "oldie-but-goodies" from when you were their ages! Some older movies great for winter include the 1994 Little Women, The Mighty Ducks, and Cool Runnings. Some newer snowy-themed movies that could be on your list may be The Lion the Witch and the Wardrobe, Ice Age, or either of the Frozen films!
I hope these suggestions bring some joy to your winter season. Comment or let me know how these worked out for you, and please let us all know what your family is doing to stay happy and entertained during the pandemic. Have a happy new year!
~ Suzanne