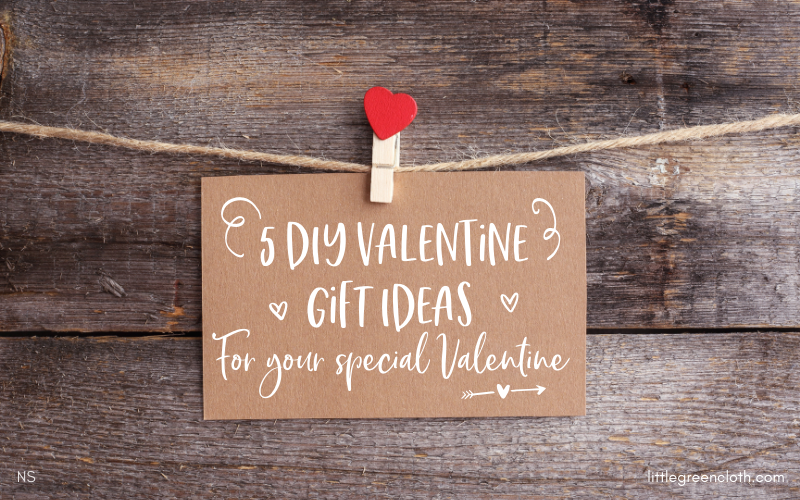 With Valentine's Day just around the corner, everyone is searching for the perfect, personalized DIY Valentine gift for their special someone. The internet is full of ideas – some great and some.. well, some definitely leave something to be desired.
I want to help you save some searching time this year by sharing 5 great DIY Valentine's Day gift ideas. I did the searching for you! These 5 gift ideas are simple to make, inexpensive, require easy-to-find items, and are sure to make your Valentine feel loved! What more could you want?
You're welcome.
5 DIY Valentine gift ideas for your Valentine
1. 52 Things A Year In A Jar
This sweet idea from thegunnysack.com, is such a heartfelt and easy gift! All you need for supplies are:
1 Mason Jar
Sheets of Paper
String
The idea of this gift is to write a memory, reasons you love that person, things you want to do together, or anything else that reminds you of them each on one slip of paper. You would roll up 52 slips, each one meant for the receiver to open once a week for a year. This is such a sentimental gift, sure to not only make your special someone feel loved but will be fun in the making for you, remembering and reminiscing on how much that someone means to you.
2. Candy Board
If your Valentine loves candy and chocolate, this witty and creative way from itsalwaysautumn.com is a fantastic way to show them you care. What you need to create this is:
Really, that is all you need! And maybe a little creativity… or Pinterest if you are anything like me! The idea of this gift idea is to use play-on-words with different candies to tell your sibling, friend, or significant other how much you care about them, without all the mushy gushy components. This is a perfect gift if humor is more up your alley.
3. Push-Pin Significant Moments
This is such a wonderful and romantic idea for your significant other this Valentine's Day. This one might take a bit more effort to create and money on that matter as well, but nonetheless, an amazing idea. If you do not want to create it yourself, you can always customize one online HERE.
If you would like to take on the challenge, you will need:
3 Maps (printing-off would probably be best)
3 Heart Stickers/Heart Push-Pins
Posterboard or Canvas Paper
Frame
The whole point of this gift is to show the place of significant moments that you and your Valentine have shared. For married couples, this may be where you first met, where you proposed or got proposed to, and where you were married. You would place a pin on the exact spot and frame the three maps. This is a beautiful idea and really will show your significant other just how "significant" they really are.
4. Bake Something Special!
This is a classic go-to, but works every time! Search for a recipe for Valentine's Day cupcakes, cookies, or any other dessert, and surprise them with a delicious treat! Red-Velvet cupcakes with cream cheese frosting are always a hit, and much easier to make than most believe! A great recipe I found is on sallysbakingaddiction.com.
5. "Bee-Mine!" Jar
This last idea from earnesthomeco.com is so adorable. Very suitable if the gift receiver loves honey, and loves charming decorations.
What you will need:
Mason Jar
Honey
Honey Dipper
String
Card
With the play on words of the "bee-mine," this gift is sure to charm your Valentine this year.
I hope these 5 DIY Valentine gift ideas help you this Valentine's Day 2021! Have fun creating your gift this year, and happy Valentine's Day!