Part 3 in "Gretchen's Journey" where she delves into the idea of cleanliness without chemicals…
Now that March has arrived, I decided that my winter decorations needed to go away for the season.  While the process takes some time, I have always enjoyed decorating my house for the season.  This is also a good excuse for me to dust because I must admit that I am not especially likely to dust furniture covered with items.  But that just might change now.
As I was getting ready to box up one of my items, I noticed something.  My snowman cookie jar was not looking as fresh as when it was newly gifted to me by one of my former students.  In fact, it was looking rather grimy.  While I am sure I could have been wiping it down every year with a wet washcloth, that seemed rather messy.  Plus usually I only have out the furniture polish.  Using spray and a dirty rag to wipe down an item that could potentially hold food was not an option for me.
Enter the Norwex dust mitt.  I simply wiped over the cookie jar with the mitt and was even able to get into the crevices.  Now my snowman looks new again.  I quickly wiped over several other decorative pieces as well.  I was so excited about this revelation that I forgot to take "before" pictures – I just started dusting away.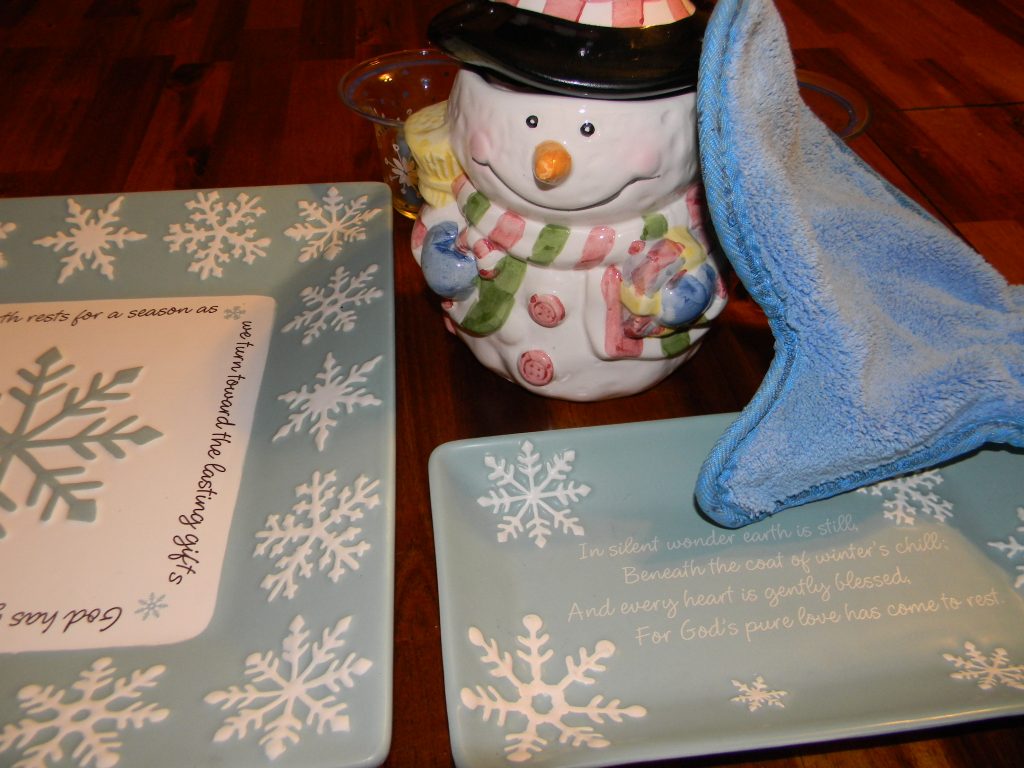 Realizing that since the items now look brand new, I decided I had better search around to find other grimy items to visibly demonstrate what a difference this product makes.  Do I have to admit that dusty objects were rather easy to find?
This is a candle holder that I purchased in Sweden on a long ago family trip.  Using a spray could ruin or cloud the glass.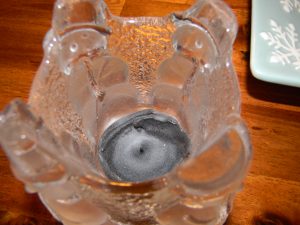 The snowmen now shine again, and the dust mitt even managed to clean the candle itself!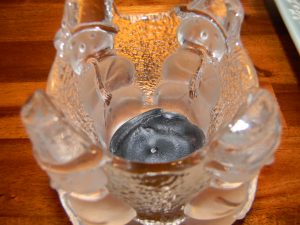 Looking closely at this sled reveals that fact that I have enjoyed it for many seasons.  While I want to recall that my husband surprised me with this when we were newly married, I do not want its age to show to others.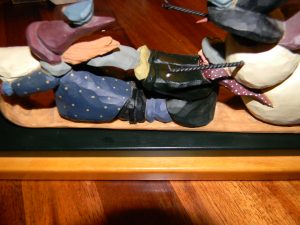 This picture demonstrates even more that a good cleaning was necessary.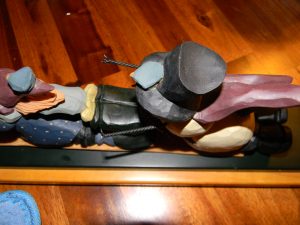 I easily convinced my mom and my sister of the merits of this product – their mitts will arrive later this week.  Since you can use the mitt with either hand, my Mom, who happens to be left-handed, will no longer be experiencing cleaning product discrimination.   And if you aren't a southpaw, you can still enjoy the reversal benefits.  If one side gets dirty in the midst of a big project, simply flip the mitt over and continue cleaning.  Of course, washing the mitt is recommended at some point.
Now my collection is ready to be enjoyed for many years to come.  Having all of these "snowy" items looking so fresh again almost makes me wish that winter would stick around for another month or two, so I could continue enjoying them.  Almost …
~ Gretchen