I wanted to share some more amazing Norwex DeScaler before and after photos with you.
Below is a picture of a whirlpool / hot tub that someone had discarded because it was so dirty and covered in lime build up.  A member of my team rescued the whirlpool and cleaned it with the Norwex DeScaler.  The results were amazing!
Two Before Pictures:  The pool is dirty; it looks like it is beyond salvaging.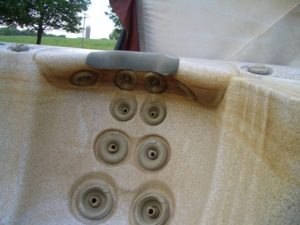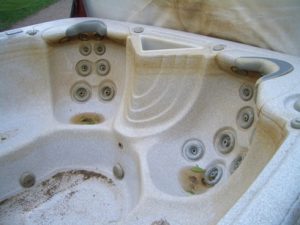 Two "After" Pictures.  The whirlpool has now been cleaned with the Norwex Descaler and looks new!
The Norwex Descaler works wonders again!
Read more about the Norwex Descaler in my previous post … Norwex DeScaler – An Excellent Lime and Soap Scum Remover.
To order your own bottle, please click HERE or contact me at 651-402-0306 or suzanneholt(at)live(dot)com.  I look forward to hearing about YOUR Norwex Descaler miracles!!