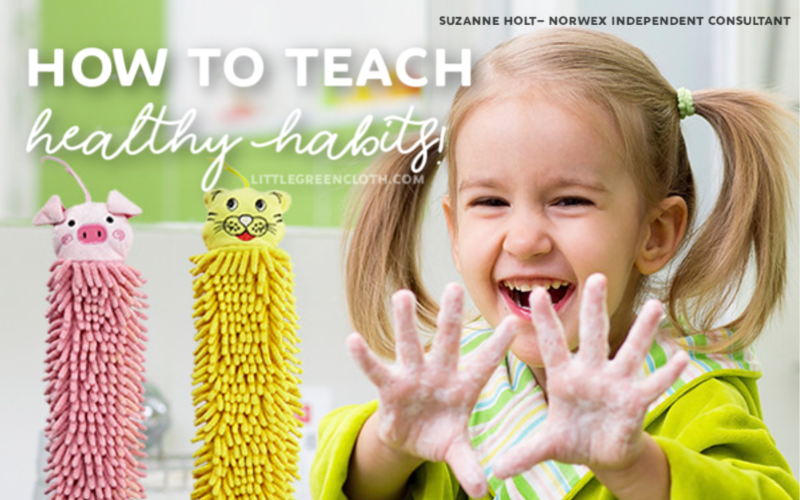 With hand washing season already upon us, it might be time for you to upgrade your routine, especially for your kids. Kids are experts at avoiding this healthy habit! And who wants to argue about hand washing? Parents know this is a battle that is worth fighting, but there are so many other ones too. Instead of struggling through this one again, try one of Norwex's Pet to Dry animals!
Healthy habits begin at a young age so set the tone that hand washing can be quick and fun with either a yellow tiger or a pink pig Pet to Dry. These towels may look like fun and games, but there is more than meets the eye. Each animal is made of a soft chenille microfiber that your kids can "pet" after washing their hands with soap and water. Norwex's signature BacLock™ microfiber is super fine and dense, which maximizes its ability to pick up dirt, germs, etc. When germs are caught in the cloth, microsilver that is embedded in the cloth self-purifies by creating a harsh environment where bacteria cannot reproduce. Not only are these cute, but they keep themselves clean so your hand washing is not in vain.
It will be easier to teach our little ones to wash their hands when they have good examples at home. Did you know that 95% of people fail to wash their hands long enough to prevent the spread of disease? This year, lets all start a healthy hand washing routine! Use a non-antibacterial soap, one that does not contain triclosan. Plain old soap and water work just fine! My family likes to use Norwex's Peppermint Foaming Hand Wash because it smells amazing and does not contain any harmful ingredients. Make sure your scrub long enough, 15-20 seconds! Try singing the "Happy Birthday" song twice! Dry your hands off with a clean towel. I love Norwex's Hand Towels for our family since I know that because of the BacLock™ agent our towels will be clean every time.
Stay healthy this year!