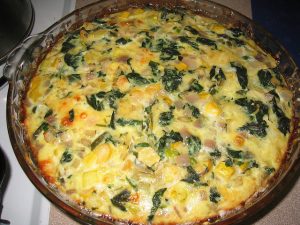 With cooler days and shorter nights, I'm more inclined to turn on the oven that during the summer, even when it comes to making breakfast. Quiche sounds a lot fancier than it is. It only requires about 15 minutes prep time (long enough to preheat the oven) and a bit of creativity, and you have a hot meal to enjoy.
As long as you have the basics in your refrigerator – eggs, milk, onion and cheese – you're set. If I have leftover veggies, I dice those and toss them in the mix. Same goes for bacon, ham, turkey or even crab.
It's is an easy, versatile recipe that I use as a go-to for weekend breakfasts. Plus, leftovers (if there are any) make a great, cold snack.
Rather than trying to find or make the perfect gluten-free crust, I go crustless altogether. I use a pie plate, but a square pan will work as well.
Here's my basic recipe:
6 jumbo or 8 large eggs
about 1/2 cup diced onion
about 1 cup of grated cheese
1 cup whole milk
salt and pepper
Dice the onions and sprinkle at the bottom of a greased pan.
Whisk the eggs with the milk, add in the cheese
Add a dash of salt and as much pepper as you like.
Pour the egg mixture into the baking dish
Bake at 350º for approximately 35 – 40 minutes, or until the eggs are set.
Serves 6
Optional:
If I have it, I'll add microwave-ready chopped bacon, Canadian bacon, diced turkey, diced ham or leftover crab to the bottom of the pan with the onions.
If I have any left over veggies, like zucchini, yellow squash, artichoke hearts, or asparagus, I will chop those up and add to the bottom of the pan as well. Fresh spinach works well too. Just keep it to veggies without a lot of water content, otherwise the quiche will not set properly.
Substitutions:
I've made this many times using almond milk, and half and half. I honestly can't taste the difference.
I prefer Swiss cheese, but I've also made with cheddar, mozzarella and dairy-free cheese (make sure it's one that will melt).
Enjoy!