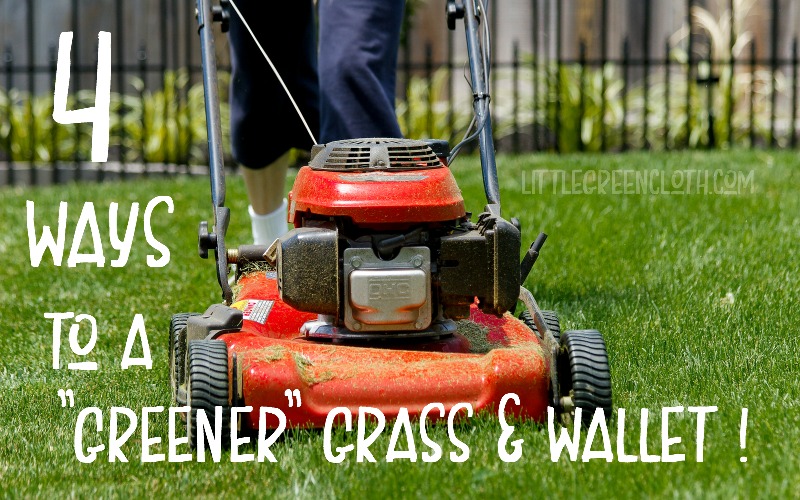 Spring has sprung! I've seen the birds making their nests in slowly budding trees. April showers are bringing May flowers. Everyday, my grass is looking a little greener. I'm sure many of you are already thinking of how you will care for your lawns this year. Do you usually hire a service or DIY? No matter which you choose, I hope you'll be making choices for a "greener" lawn this year. From the pesticides to the excess water use to the emissions from the lawn mower, maintaining our green grass is far from being green in practice. There are ways to have the best of both worlds though; you don't even have to spend a lot of "green" to do so!
Rethink your habits: We've got our lawn care routine down to a T. It fits nicely into our weekly routine and summer Saturday mornings. Water on the odd days, cut, rake, spray, weed-wack. Did you know though that less is more when it comes to lawn care? One practice you could incorporate this year is "grasscycling." According to the EPA, "'Grasscycling,' or leaving the clippings on the lawn, doesn't cause thatch build up—but it does make lawns healthier" (Homeowners). Grasscycling means cutting more frequently but will save you time by 30 to 40 percent since you don't have to bag up the grass clippings. Check out the many other ways the EPA can help you create a "Greenscape" this year!
Be Efficient: Engery-efficient! Did you know that "One hour of gas-powered lawn mowing produces as much pollution as four hours of driving a car" (nationalgeographic.com)? If you are in the market for a new lawn mower, think energy efficient! Not only will you be saving the environment from excess emissions, but you'll be saving money since you won't be putting gas in it as often.
Conserve water, conserve your "green": I'm sure many of you are aware of the devastating effects of drought and drastic water conservation efforts in California. We may not be forced in to water conservation, but their are benefits of doing so. Water deeply, but infrequently and water in the mornings is the motto for green lawn care!
Make your own fertilizer: Instead of spending money on fertilizer, why not start a compost pile this year? Designate a place for your compost box and throw in your excess grass clipping, table scraps, coffee grounds, etc. These materials naturally break down and will become nutrient rich soil that you can nourish your plants with. There are many online resources to help you get started.
How will you be making your lawn greener this year? Unfortunately, there are still many homeowners and companies that do not practice green lawn care. Inevitably, unwanted residue from chemicals and allergens will sneak in to your home. Did you know that in the first 4 steps in to your home, 85% of contaminants are brought in? Give your home the first line of defense against toxins with the Entry Mat. This mat will trap the toxins in your tracks!
Works Cited
"Homeowners." EPA. Environmental Protection Agency, n.d. Web. 08 May 2015.
"Homeowners." EPA. Environmental Protection Agency, n.d. Web. 08 May 2015.
"Lawn Mower Buying Guide." Nationalgeographic.com. N.p., n.d. Web. 8 May 2015.