Struggling with a Dust Mite Allergy?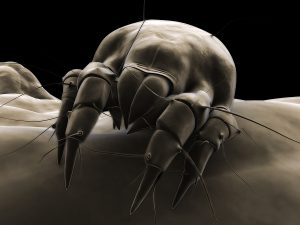 It can be difficult to believe that something so little you that need a microscope to see it can impact your life in such a big way.  Dust mites are microscopic bugs that are related to the spider.
They eat skin cells regularly shed by humans and their furry pets such as dogs and cats.  Dust mites thrive in humid, warm temperatures of dwellings and workplaces.
The places you lounge around your home such as mattresses, bedding, pillows, and carpeted areas are ideal living spaces for these mites.  There can be up to 100,000 dust mites found in a piece of carpet measuring one square yard.
Your bedroom mattress offers all a dust mite would want – warmth, moisture, and dead skin cells to feed on.  The average mattress can double its weight in ten years.  How, you may ask?  The added weight comes from alive and dead dust mites, their feces, and our sloughed off skin cells.  If your pillow is two years old, 10% of its weight comes from, you guessed it, alive and dead dust mites and their waste.
Dust mites can also be found on curtains, stuffed animals, upholstered furniture, and the list goes on.  Often the most overlooked item is that cute teddy bear in your child's room.  Dust mites are especially attracted to stuffed animals made of wool or stuffed with down materials. Years of droppings and dead and alive mites add up quickly.   To keep dust mites at bay, clean the stuffed animals often and spray regularly with the Norwex Mattress Cleaner.
Dust mites are linked to asthma and allergies, especially in children and the elderly.  The dust mites themselves are not actually harmful to people.  It is the decaying bodies of dust mites and their feces which is protein that causes an allergic reaction.  The dead bodies and feces are a major component of house dust.  Some people have a genetic trait to dust mite allergies, but others can develop it over time.   Some homes have enough allergens present that it causes sensitivity to people who would otherwise not have an allergic reaction.  To sum it up, a person who was not allergic previously could develop an allergy given enough dead dust mites and feces.
Symptoms of a dust mite allergy include sneezing, runny nose, watery eyes, cough, congestion, facial pressure, and asthma attacks.

What can you do to give yourself and your family a better quality of life?
Getting a handle on the dust in your home can help tremendously.
Dust with the Norwex BacLock™ Dusting Mitt that will trap the dust in the mitt rather than allowing it to float in the air.
Vacuum the carpet under your bed every few weeks to control the dust mite population.  Use a vacuum with a HEPA filter.
Spray your mattress with our Norwex Mattress Cleaner.  It provides guaranteed elimination and removal of dust mite waste and organic material. Active zinc encapsulates and micro organisms remove odor causing particles and other organic material from  mattresses, sofas, and bedding (including comforters).   It minimizes bacteria and dust mite growth, etc.  A few sprays applied once every two to four months dramatically changes the lives of those with asthma or dust mite allergies. It will eliminate dust mites and their waste in a natural chemical free manner.
Wash your bedding weekly in HOT water.
Clean your flooring weekly with a mop and water.  We recommend the Norwex microfiber mop packages.
Dust furniture in carpeted areas prior to vacuuming, so dust settles to the floor to be vacuumed.  Vacuum carpeting thoroughly weekly rather than a light cleaning daily.
[pinit]