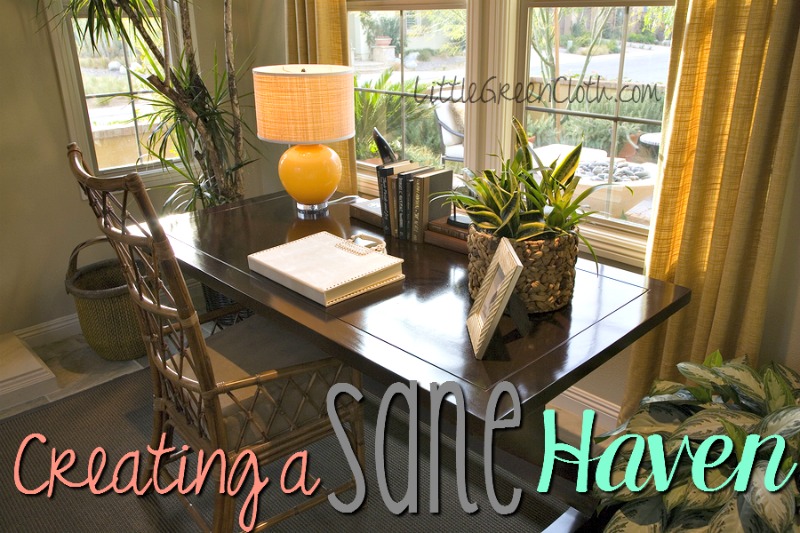 This is the space that needs to be kept the most organized, but is so often the LEAST orderly. I wanted to start our series with this space because it becomes the catch-all zone. The mail keeps arriving, forms need to be signed, and bills need to be paid. Once you conquer this area, you will have a lot of steam to keep moving with your other organizing projects.
One of the reasons I think organizing office space is so difficult is because every office is going to be different. People use their home office in many different capacities. I use mine for all my Norwex business and home affairs. Some people just use theirs for filing bills. I have a room in my home that is my office. Some people just have a corner in their basement for their desk. There is no "one size fits all" solution for office space.
Lets look at some common problem areas and their solutions from some other great blogs when it comes to our office:
The Supplies: So many sheets of paper, pens, paperclips, staples! Its maddening if these things aren't in order. I love how Jenn at Clean and Scentsible uses a muffin tray to organize the small things in her drawer. She also suggests using an ice cube tray. These are things you already have on hand. Over at a Bowl Full of Lemons, Tina uses an egg dish. I also like Tina's idea to store different writing utensils in small buckets above her work space. Use magazine holders to store your notebooks that are in use. Use fun, vibrant colors! You'll the need the energizing! Be creative with your space.
The Paperwork: One of my friends confessed that she dreads the moment when she will have to search for a document in her paper pile. Like I said before, there is no "one size fits all" solution for this problem. I love Sarah Titus's "One-Touch" system. She is only allowed to touch it once so she needs to put it where it belongs. Once your mail comes in, sort into to toss, shred, file, pay piles. I love Tina's "Mail Station" at a Bowl Full of Lemons! Just make sure you continue to maintain these files. Once you've tossed, shredded, and paid the bills, its time to file. Lauren at Bless'er House has a very thorough filing system. I like to save most of my papers and know that all of them have a home so this model works well for me.
Family Command Center: The Family Command Center goes hand-in-hand with the home office. If you have a well-organized station, you're paperwork situation will go more smoothly. Meredith at the Unoriginal Mom has great ideas on how to come up with a family command center that will work for your family. She suggests taking inventory of everything you see before you organizing it so you can be strategic. Check out this post from My Life and Kids for some more inspiration.
I hope this helps you to get inspired and feel like you can conquer your home office! What area of your home office needs some help? What has worked for you? Good luck creating your SANE Haven! If you have any questions creating a SAFE Haven, I'd love to help reduce chemical use in your home!
~ Suzanne