It's the count down to Christmas, and we are trying to find great gift ideas for everyone on your list!
Today, we have a gift guide for your pet or someone who loves their pet like family. Even though it is nice to stock up on some of the fun pet essentials like toys and treats, it's also a good opportunity try something new and see if it fits into your pet's routine.
Pet Mitt: This is a must-have for pet owners! I love to pet my dog, but for some reason, when it comes to grooming, I like a barrier between my pet and me. This mitt works both wet and dry. Use it dry to pull away loose hairs, and use it wet to wash your whole pet or just touch up their paws after going outside. Just rinse it off after use and the BacLock™ feature will go to work self-purifying the cloth so it is ready for whatever your pet does again tomorrow!
Pet Towel: Give your pet a quick towel down before they shake it out themselves! This towel is unique because of the two pockets for your hands, which gives a secure grip on the towel and dog. After you're done, hang the towel up to dry because it too has the BacLock™ feature that will make it clean for the next use.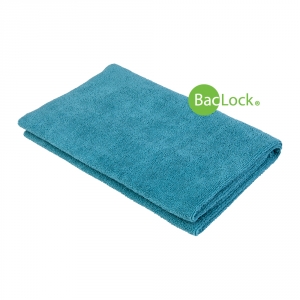 Norwex Bath Mat: For some unknown reason, Brody (my dog) LOVES the Norwex Bath Mat! He whines when its not in his kennel! Aside from that, it does make a nice blanket because it is small and the BacLock™ feature self-purifies so I don't have to wash it as frequently.
Air Freshener Bag: Hang this on your pet's cage to keep their odors at bay! Pets can be sensitive to fake chemical scents so this is the perfect alternative. The bamboo charcoal inside naturally absorbs odors, trapping them without the use of chemicals to mask the smell. When the air freshener bag reaches its capacity of odors, rejuvenate the bag by airing it out in the sunlight. Repeat every 1-3 months and the bag will last up to 2 years. Not only does it get rid of gross smells, but it comes in a pretty linen bag so it will blend in to your home.
I hope you found something new to try that will be functional for living the natural life with your pet! Merry Christmas from Brody to all the other Norwex pets!