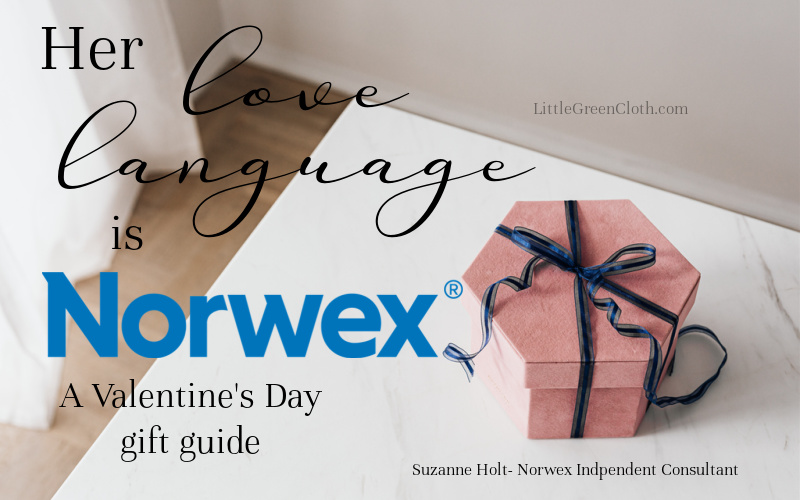 How will you be spending Valentine's Day this year?
Now's the time to plan something special! Flowers and chocolate are nice, but not always the most thoughtful. Gifts are great, but I think the best way to spend Valentine's Day is to enjoy an experience together. Gifts just compliment the memory you made! You already know your sweetheart loves Norwex so I'm just here to offer some hints!
For the Organic Home Chef
Do you have a master chef in your kitchen? Someone who takes pride in the ingredients they choose to put in their dishes? Start your evening with a cooking class or a meal at a gourmet restaurant. Help your valentine keep the integrity of their food with the Norwex Fresh Wash, large Cutting Board, &/or Kitchen Cloth and Towel set to match the decor. They say "the way to a man's heart is through is stomach" so this is the gift that keep on giving!
For the Mom-on-the-Go
Her afternoon is always booked and crock pot always full. She has everyone taken care of so help take care of her. Give the gift of peace, quiet and a clean house! Find a babysitter for those kids, hire a (natural) cleaning service, and then get her ready for another fast paced day with some Norwex. The Optic Scarf is perfect for keeping those sunglasses or smartphone clean on her way to the next soccer game. Pick from 5 cool patterns! Throw in some Timeless Natural Hand Cleaner and pick one of the 3 new Norwex Lip Balms and her purse will be set for day on the run!
For Indulgent Pampering
Did some say "pampering?" Oh yeah, I did! Norwex knows how to pamper! Manis, pedis, and massages, then get your sweetheart all wrapped up in a butter-y soft Spa Wrap and let her indulge in Mediterranean Meditation Olive Oil Salt Scrub. It's a great way to treat dry skin and get in a good mood!
For the Teacher
Do your kids still hand out cards and candy in school? I remember the cute "mailboxes" the kids' made to receive cards. It was such a fun day for the students! But don't forget the teacher! Grab some Peppermint Foaming Hand Wash and Timeless Rescue Gel to bring some aromatherapy to his or her day!
So what will you be gifting this year? Cards and flowers or something she won't expect?
Happy Valentine's Day to you and those you love!
~ Suzanne