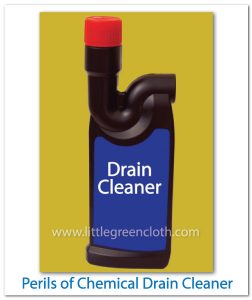 Each year there are a number of recorded chemical drain cleaner injuries reported resulting from minor skin burns to fatal blindness as well as other alarming accidents. In the 2000's, according to U.S Poison Control Centers, cleaning products accounted for roughly 10% of all toxic exposures. (Ref. www.organicconsumers.org)
Not all consumers take time to read or educate themselves about the common chemical agents found in their drain cleaners. We may not be aware but many common household chemicals are dangerous. Two of these corrosive chemicals are sodium hydrochloride, commonly called lye, and sulfuric acid.
What are the dangers of chemical drain cleaners? They can cause extremely serious chemical burns if accidentally splashed onto skin. For example, splashing the common ingredient of sodium hypochlorite, or bleach in laymen's terms, accidentally onto an open cut, inhaling ingesting the chemical may require immediate medical attention. Common acids used as drain cleaners are muriatic, sulphuric or hydrochloric acids. Acids can produce toxic gas and, more importantly, may erupt back out of the drain into eyes and land on skin. It is not advisable to add sulfuric acid type drain cleaners directly to water since this can cause spitting or splattering in the neutralizing process. Even in small concentration, any exposure to acid through your eyes, skin or lungs is dangerous and needs prompt cleansing and medical treatment. (Ref. www.spartantool.com)
The ingredients dimethylbenzyl ammonium chloride or sulfuric acid are commonly used in acid-based drain cleaners and carry some important cautions when using them. These various harmful chemicals can cause skin, eye, nose, throat, sinus and respiratory irritations. Some can burn or corrode through the skin by accidental contact. Furthermore, these chemicals can damage the different organs like the kidneys, liver, and the main nervous system. If left unattended or if ingested by children, these substances can be fatally poisonous and immediate and proper medical attention should be sought out. The combination of water and sulfuric acid produces an exothermic reaction. The fluids will heat up significantly, so be sure not to add too much at a time or it could potentially cause melting of the pipes. Additionally, it is always advisable that should you use a product with any acid  and it gets onto your skin, that you flush with water immediately. In addition, always have a source of running water nearby when handling this acid.
The NOAA (National Oceanic and Atmospheric Administration), made comments about sulfuric acid such as "The colorless oily liquid is corrosive to metals and tissue. Long term exposure to low concentrations or short term exposure to high concentrations can result in adverse health effects from inhalation. It is highly reactive and capable of igniting finely-divided combustible materials on contact. When heated, it emits highly toxic fumes."  And stated it can also "react violently with water."  (Ref www.drainbo.com)
The ingredient sodium hydroxide lye reacts with fats and greases when combined with water to make soap. It is a strong base and effective when attacking clogged drains. Sodium Hydroxide is naturally occurring and is sewer and septic safe as it is diluted in its journey down your pipes. Though not as effective as sulfuric acid, it is safer and easier to use. If you get dry sodium hydroxide on your skin, it will not burn unless a small amount of moisture is present. Just wash it off immediately and burns will be minimal. Finally, sodium hydroxide produces an exothermic reaction when mixed with water. Do not add too much lye at once or the excessive heat can cause the water to boil and it can melt plastic pipes. Do not use sodium hydroxide with aluminum chrome, brass or galvanized steel pipes.  Do not touch any water which has lye in it, as it becomes severely corrosive to the skin. (Ref: http://www.dudadiesel.com/drain_cleaners.php )
For the most part it is advisable to wear protective clothing when handling chemical drain cleaners such as chemical resistant gloves, safety goggles and protective clothing.
Listed below are Some Common Health Hazards Related With The Use Of Chemical-Based Cleaners:
Skin irritations and burns
Eye irritations and infections
Lung or respiratory problems
Headache
Sneezing
Hormone Disruptions, Reduced Sperm Count and Birth Defects
Cancer
Natural drain cleaners can be found within your kitchen. You need not go far and grab hazardous drain cleaners that can be bought at stores. One natural way is by using vinegar combined with baking soda and warm water which can also work well each time. You can also go for eco-friendly bio drain cleaners or "green" drain cleaners for your own safety as these use natural enzymes and bacteria which are not harmful to humans, pets and especially the environment. Bio drain cleaners as they are also called are safe and organic alternatives which can prevent harm for your health and those people around you.