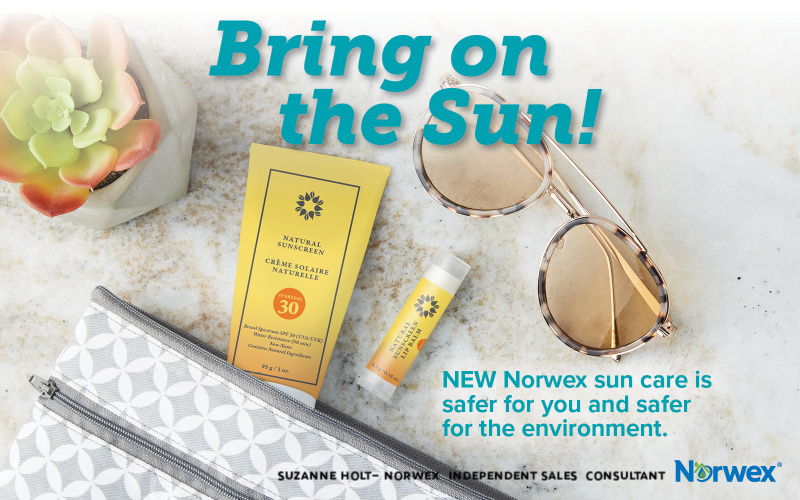 Just in time for spring break, Norwex released their Natural Sunscreen and Natural Sunscreen Lip Balm!
In our effort to soak in some vitamin D, we want to be careful to avoid an unwanted burn and further skin damage that could lead to skin cancer, but many sunscreens contain toxins that make you wonder which is actually worse, the sun or the sunblock? The EWG breaks down the typical sunscreens on the market:
"Active ingredients in sunscreens come in two forms, mineral and chemical filters. Each uses a different mechanism for protecting skin and maintaining stability in sunlight. The most common sunscreens on the market contain chemical filters. These products typically include a combination of two to six of the following active ingredients: oxybenzone, avobenzone, octisalate, octocrylene, homosalate and octinoxate. Mineral sunscreens use zinc oxide and/or titanium dioxide. A handful of products combine zinc oxide with chemical filters." – "The Trouble with Ingredients in Sunscreens, EWG.
Of all the chemical ingredients, the EWG finds oxybenzone the most troubling. "The Environmental Working Group and other toxicology experts believe that oxybenzone is linked to hormone disruption and potentially to cell damage that may lead to skin cancer" (CNN, 2012). So how do you protect your skin from the sun's harmful rays and stay away from questionable chemicals?
Mineral sunscreens are the best alternative and Norwex now has their own formula. Norwex's Natural Sunscreen is a SPF 30 mineral sunscreen made from 100% Zinc Oxide. It provides a broad protection from UVA/UVB rays while moisturizing your skin with nourishing ingredients like Sunflower Seed Oil, Jojoba Oil, Shea Butter, natural Beeswax, and Coconut Oil. It is effective in all kinds of weather and gives up to 80 minutes of water resistance. Plus, it is great for sensitive skin!
Their Natural Sunscreen Lip Balm is also Zinc Oxidepowered and offers non-nano, broad-spectrum UVA/UVB sun protection. The same nourishing ingredients in the sunblock make up the Sunscreen Lip Balm to keep your lips safe and soft.
Start your spring and summer off without chemicals or a sunburn with Norwex Natural Sunscreen and Lip Balm!
Check out the video below for more info: