Winter is here, and with it brings dry chapped skin. Even if you don't live in an area where the winters are cold and harsh, you have most likely experienced painful, dry skin at some point. What better way to take care of your skin than with Norwex's organic skin-care products! These products are made with pure, environmentally-friendly, organic ingredients that are not only good for the skin but smell great, too!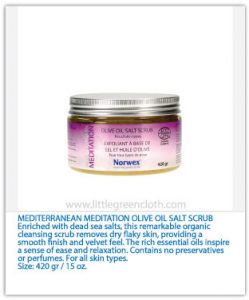 If your hands are extremely dry, I recommend using the Mediterranean Olive Oil Salt Scrub on occasion to really combat dry, flaky skin. The dead sea salts in this amazing scrub will exfoliate and cleanse your skin leaving your hands velvety smooth. But don't just stop at your hands, you can also use it all over your body! Scoop out a small amount the next time you are in the bath or shower and treat yourself to an exfoliation and deep moisturization that will make you feel like you just stepped out of the spa. There are no preservatives or perfumes in this Salt Scrub, just good pure ingredients that your skin will love soaking up.
Another great use for the Norwex Mediterranean Olive Oil Salt Scrub is for your legs.  Get legs and feet that are baby soft; just be sure not to use immediately before or after shaving as the sea salt may irritate.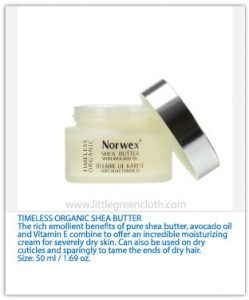 Have one area, or a couple, that just stay rough, dry and cracked no matter what you do? Give the Timeless Organic Shea Butter a try. This butter is super thick and has ingredients like Vitamin E, pure shea butter and avocado oil. It will really penetrate into those extra dry spots (think knuckles, elbows, feet) helping heal and protect. The lecithin (a fatty substance) in the avocado oil actually builds up on your skin creating a protective barrier, keeping moisture in where it belongs! Warm the butter in your hands first then apply as needed. It's also good for your cuticles and the ends of dry, frizzy hair.  My son is a hockey player, and his skin reacts to the constant rubbing from the hockey pads.  He puts the Norwex Shea Butter on his hands, knees and legs every night before bed.  The improvement we have seen is remarkable!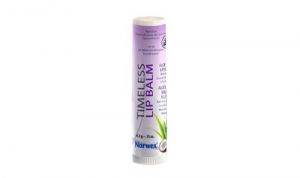 And last but not least, our mouths. The thin, sensitive skin on our lips need extra protection against the elements. When our lips feel dry it's a natural reaction to just quickly lick them, but that actually dries them out faster. Using Norwex's Timeless Lip Balm will give your lips the protection and moisture they need and deserve. This super creamy lip balm has organic aloe vera, coconut oil and tea tree oil, which is known for its healing and bacteria-fighting properties. It also smells AMAZING! The warm, rich, coconut scent will have you coming back for more. So drop one in your purse, diaper bag, car….wherever you go….and your lips will never be sore or cracked again!
You can see that whatever your dry skin challenge; Norwex has you covered!
Want to learn more?  CONTACT ME for a personal consultation.
Ready to purchase?  You can purchase any of the above items through MY ONLINE NORWEX SHOP or by contacting me directly.
Enjoy the winter!
~ Suzanne