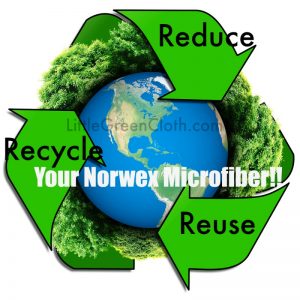 Norwex is all about reducing waste, reusing material, and recycling plastic. That's just common sense.
Did you know that Norwex just revealed their NEW Microfiber Recycling Program?
This program will allow you to dispose of your Microfiber in a safe and effective way so that it never gets used as "waste".
Norwex currently partners with a company that converts waste into renewable energy. The partners have officially extended this agreement to include all Norwex Microfiber at the end of their life as well!
This means that once you have gotten your use out of the Microfiber and it becomes dingy or raggy, you can contact me to get you the return label so you can correctly and effectively recycle and reuse your Norwex Microfiber products.
The energy-from-waste facilities that we partner with process 20,000,000 tons of waste each year! This waste is turned into enough renewable energy to power 1 MILLION HOMES!
"This is a safe and technologically advanced means of waste disposal that also generates clean renewable energy, reducing greenhouse gas emissions and supporting recycling through the recovery of metals." – Norwex statement
I cannot describe to you how humbled I am to be a part of an organization that truly goes above and beyond the norm in order to save and improve the world we live in.
CONTACT ME anytime if you would like to know more about this new program, if you need a label to recycle your Norwex Microfiber, or if you would like more information on this AMAZING organization and the mission they stand for.
~Suzanne