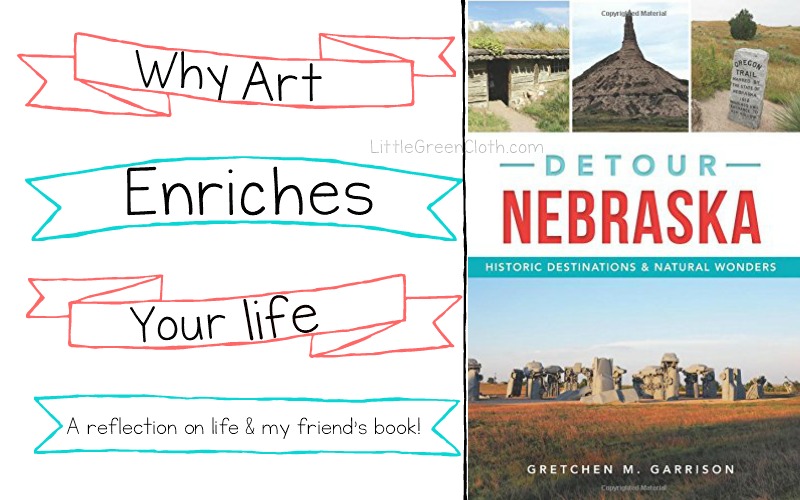 "Art washes away from the soul the dust of everyday life" -Pablo Picasso.
Thanks to overcrowded schedules and increasing demands, we all can be overwhelmed.  When we make the time to breathe, our responsibilities do not feel quite as heavy.  Taking the time to see works of art in person is one way that we can calm our souls.  Here are three ways to make the process easier.
Art is surrounding us if we only pay attention
How many times have you driven by a statue found in your neighborhood?  Or not noticed the public art found down the street?  Art is all around us if we take the time to see.  Gretchen mentions this particular piece, called "The Tower of Ascent" by Kaneko, because it is found in downtown Lincoln.  Beautiful all of the time, but particularly breathtaking at night.
To see art in person is more affordable than you would expect
Maybe we have dismissed art museums because we think that they are too expensive.  While that may be true for certain locations, many art museums are not pricey at all.  The art museums that Gretchen mentions in her Detour Nebraska book are all free to see other than for the occasional ticketed exhibit. This sculpture is found at Joslyn Art Museum.  Dale Chihuly is world renowned glass artist, and two of his large scale pieces are at the Joslyn.  How can your heart not be lifted at seeing such color?
While I cannot list every free art museum, these are some of the free art museums that are found in the Midwest.  We will start with the ones that Gretchen mentions in her book.
Sheldon Museum of Art in Lincoln (geared toward University students – some exhibits may not be family friendly)
Great Plains Art Museum in Lincoln
Museum of Nebraska Art in Kearney
Nelson Atkins Museum of Art in Kansas City
Madison Museum of Contemporary Art
Art provides us with a connection to the past
Being able to envision life before enables us to have perspective on our lives today.  I reflected on a mural of a fort that seemed to indicate a simpler time, but was also a necessary tool for survival.  Sometimes in the midst of our busy seasons, we think that we are the only ones with struggles.  Art reminds us that throughout time, life has been full of challenges for everyone.
I am so proud of my friend's book. I hope you take a moment to reflect on the beauty of art and life to "wash away from the soul the dust of everyday life" since Norwex can't clean that one!  If you want to follow Gretchen on social media, check out her platforms below:
Website: http://www.odysseythroughnebraska.com
Facebook: https://www.facebook.com/OdysseyThroughNebraska/
Instagram: https://www.instagram.com/nebraskaodyssey/
Twitter: https://twitter.com/NebraskaOdyssey
If you are interested in her book, check it out on Amazon!