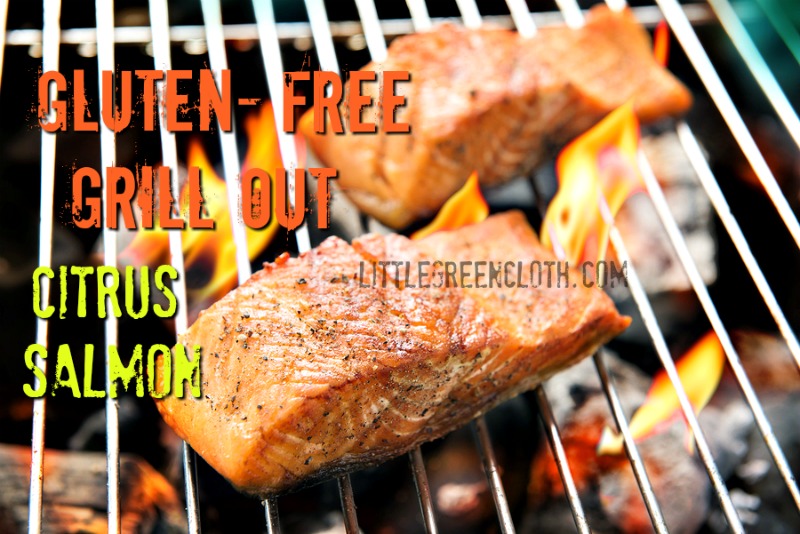 Let's be honest, summertime food is my favorite part of summer! It's quick and simple, but so delectable! The grill is also a great place to be gluten-free. Sure, you can always put a bun around a hamburger or hot dog, but there are many other recipes to try that don't have gluten! You just have to be creative! Here is my menu for this weekend for my family of four:
Simple Citrus Salmon
2 lbs of your choice of salmon
2 TBSP Olive Oil
1 TBSP Lemon Juice
4 Basil Leaves
In the morning, make your simple citrus marinade with the olive oil, lemon juice, and shredded basil leaves. The basil will breakdown and infuse the oil and juice. Before you turn the grill on, spread the marinade on the salmon, then turn on your grill. Set to medium heat, if you are using a gas grill, and wait about 20 minutes until it is at about 350 degrees. Place your salmon fillets on the grill, skin side down. Reduce the heat to low and close the grill. Watch closely for about 10-15 minutes. When the meat turns from translucent pink to solid pink all the way through, take it off the grill. Enjoy!
Quinoa Black Bean Avocado Salad with Cilantro Lime Vinaigrette

This recipe is amazing! Its way better than any starchy potato or pasta salad! It is light and packed full of good things for your summer body. Check it out at laurenkellynutrition.com.
Fruit Salad with Honey Lime Sauce
Strawberries
Blueberries
Cantaloupe
Grapes
Kiwi
Any other fruit you'd like!
1 TBSP Honey
3 TBSP Lime Juice
Cut up all fruit and place in large bowl. Mix honey and lime together until combined. Pour over fruit and mix until coated.
If you happen to notice, your grill needs a little TLC before throwing the salmon on, spray some of your Norwex Oven and Grill Cleaner on for a toxin-free, quick, clean!
You won't find any gluten on this menu, but you will find an array of simple, savor flavors. Happy Grilling!
~ Suzanne