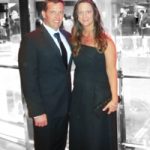 Curt and I just returned from an amazing trip aboard the Allure of the Seas (the largest cruise ship in the world!!) as a result of earning the Go For the Goal incentive last year. I earned the free trip by selling more than $65,000 in Norwex product and having more than 14 qualified recruits. We were honored to travel with 15 other Norwex independent sales consultants and their spouses, as well as Debbie Bolton and her family.
Traveling with Norwex is an amazing experience, and one I enjoy helping my Norwex team members strive for. This trip provided Curt and I with some fun time away, while also giving us the opportunity to network with other top leaders. We had a blast talking Norwex strategy while lounging by the pool, and discussing Norwex party tips while literally standing in the ocean in St. Thomas. Our cruise ship stopped in the Bahamas, St. Thomas and Saint Maarten. PARADISE TIMES THREE!!
Norwex has provided us the opportunity to see places we never would have seen without this amazing business opportunity.
It has also provided us with opportunities to try new and exciting things. In Saint Maarten, I did something that I have always secretly wanted to do…Curt and I went para-sailing! For those who don't know me well, I am terrified of heights. Parasailing involved me overcoming one of my deepest fears, but somehow it seemed so much easier to do that when surrounded by Norwex friends!
One amazing part of this trip was the amount of time I got to spend one-on-one with Debbie Bolton. We were able to talk about my family, my team, and to strategize for a strong 2012. Debbie is an amazing woman, and I appreciate her leadership and friendship. She truly lives the Norwex values of integrity, trust, and respect. I feel very honored to be a part of this company and to represent my Dream Team each and every day! I look forward to traveling with many of you to the Dominican Republic in January, 2013!
For more information about my Dream Team, please contact me at suzanneholt(at)live(dot)com.