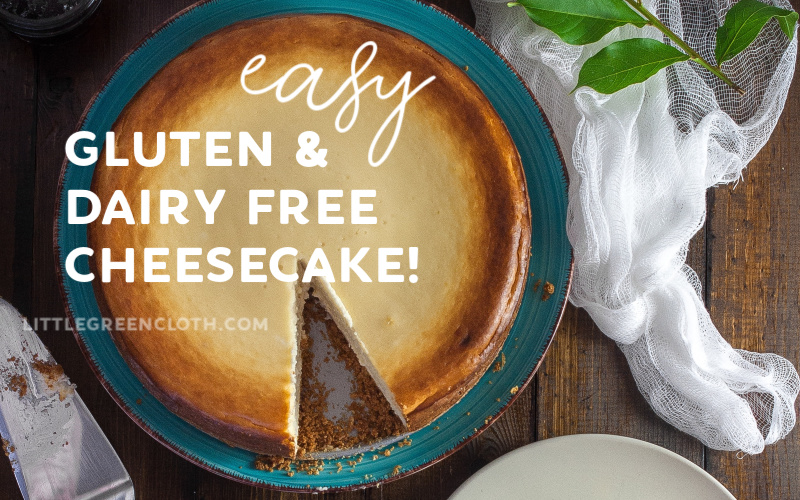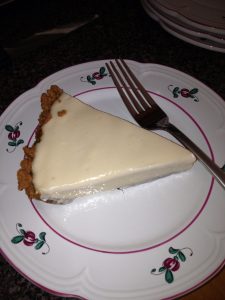 Yesterday was fun; as in one of those days when you laugh at yourself over and over as you experiemnent with something, in our case- gluten and dairy free cheesecake! 
My husband has been gluten free for several years now, and dairy free as well.  His mom was making their family cheesecake recipe that was passed down from my husband's Irish great-grandmother, and I wondered if it would be possible to modify it to be gluten free and dairy free.  With that said; baking has never been a strong suit of mine.
Here's the original recipe:
Crust:


Combine the following ingredients and form into a graham cracker crust in a pie pan:
16 graham crackers
1 stick butter
2 Tablespoons sugar
Bake at 350 degrees for 15 minutes
Filling:
Beat 2 eggs
Add 1/2 cup sugar
Add 1 teaspoon vanilla and 12 oz cream cheese
Beat well.  Put in a 9 inch crust and bake for 30 minutes in a 300 degree oven.
Cool for a few minutes and then put on topping.
Topping:
1/2 pint sour cream
1/2 teaspoon vanilla
2 Tablespoons sugar
This recipe posed a few challenges since most graham crackers contain gluten, and sour cream and cream cheese most definitely contain dairy. 
We bought the following ingredients in our attempt at substitution: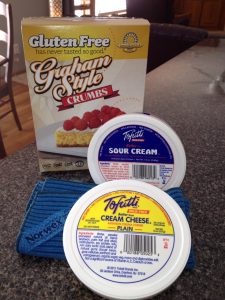 Kinnikinnick Gluten Free / Dairy Free Graham Style Crumbs
Tufutti Better Than Sour Cream
Tofutti Better Than Cream Cheese.
The first step was to prepare the Graham Craker Crust.  Luckily, the Kinnikinnick box had a recipe for making a graham cracker crust with the crumbs that we had rather than the full sized graham crakers that the original recipe called for.
To make the crust, we combined:
1 1/2 cups of packed Kinnikinnick Graham Style Crumbs
1/2 cup granulated sugar
6 tablespoons of melted butter (we used the dairy free Earth Balance butter substitute)
This next part was very important.
My original recipe called for the crust to be baked for 15 minutes after it is formed into the pan.  That does NOT work with the Kinnikinnick graham style crumbs, as we quickly learned.  If you use the above crust recipe and put it in the oven, you will get a bubbling pile of graham cracker crumbs and butter.  We pulled the crust out of the oven and reverted back the original directions on the box.  What you SHOULD do with this crust is press it into the pan and then refrigerate for one hour.
Filling: 
Beat 2 eggs
Add 1/2 cup sugar (I went slightly over because I was concerned about whether the Tofutti cream cheese was as sweet as regular)
Add 1 teaspoon vanilla and 12 oz of Tofutti Better Than Cream Cheese
Beat well.  It took us more than five minutes with an electric beater to get this to a smooth consistency.
Place in the graham cracker crust and bake in a 300 degree oven.  The timing on this was much different than the original recipe.  My mother-in-law had said to bkae for 30 minutes, but to then check it with a knife to make sure that it was a somewhat stable consistency and that it should "jiggle" when you take it out.  At 30 minutes, ours still had the consistency of pudding.  It was almost 50 minutes before we felt the consistency was just right.  You can see the knife marks in this next picture showing our various "tests."
Here's what it looks like after the filling is cooked.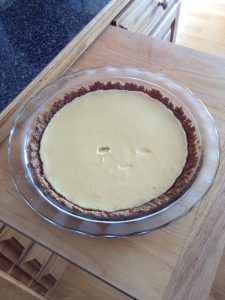 The last step is the Topping
To create the topping, mix:
1/2 pint Tofutti Better Than Sour Cream
1/2 teaspoon vanilla
2 Tablespoons of sugar (I sprinkled a little extra in again because of my concern that Tofutti may not be as sweet as regular sour cream)
After it is mixed, place the topping over the filling and bake at 250 degrees for 10 minutes.
After you take the finished cheesecake out of the oven, let it cool for 30 minutes and then refrigerate until it is time to serve.
Here's a picture of our finished Gluten Free Dairy Free Cheesecake.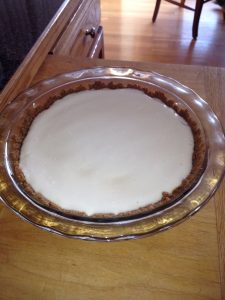 My husband was thrilled with the cheesecake!!  This left me feeling more inspired to try modifying traditional recipes to be gluten free and dairy free.  So often I search online for recipes but they end up being so COMPLICATED!  I personally don't have three different types of gluten free flour in the house at all times, so I really appreciated the simplicity of this graham cracker crust.
Let me know if you try the original or modified recipe.  Happy Easter!
~Suzanne