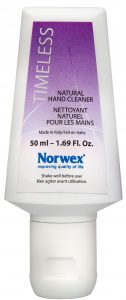 The groundhog saw his shadow, which means there are 6 more weeks of winter.  This can be agonizing for many individuals; especially with the frozen tundra enhancing weather we have been facing lately!  Not only is the weather cold, but also many individuals are finding themselves getting sick.  Nothing is worse than the feeling you get when you know you are about to get a bug, all you want to do is stock up on Vitamin C and fight it off!
Store bought hand sanitizers frequently contains a chemical called Triclosan, which can be quite harmful for users. CNN Health has studied the effects of Triclosan and states, "Research has shown that Triclosan can disrupt the endocrine system, amplifying testosterone. In animal studies, it reduced muscle strength. It may also harm the immune system. Whether these findings add up to human toxicity isn't established yet, but the FDA is currently reviewing the issue." It is just not logical to purchase a product that doesn't even disinfect as it says it should.
Luckily, in August of 2013, Norwex came out with a WONDERFUL on-the-go hand cleanser for this exact reason. People often find that "hand sanitizers" of an alcohol base tend to dry out their hands while supposedly killing 99.9% of germs. Norwex Hand Cleaner does not contain harmful chemicals, rather natural products including Aloe and Barbadensis leaf extract. Not only does the Natural Hand Cleanser clean thoroughly on the go, but also moisturizes due to the Aloe Vera!  Check it out HERE.
Norwex also just launched the production of their NEW peppermint foam hand soap.   Read more about that in an upcoming post or check it out HERE.  The peppermint scent is a soothing sensation to calm and relax; yet it is still cleaning your hands!  Keep this foam soap in the bathroom and by the sink to stay healthy this winter season.
Instead of fearing the outdoors this continuing winter, enjoy yourselves and don't fret over the germs. Keep a Norwex Hand Cleanser in your bag for on the go, and wash your hands thoroughly when you get home with the Peppermint Foam Soap. Stay clean and stay healthy!
~ Suzanne
Resource:
Barnett, Bob. "Is Hand Sanitizer Toxic?" CNN. Cable News Network, 16 Oct. 2013. Web. <http://www.cnn.com/2013/10/16/health/hand-sanitizer-toxic-upwave/>.