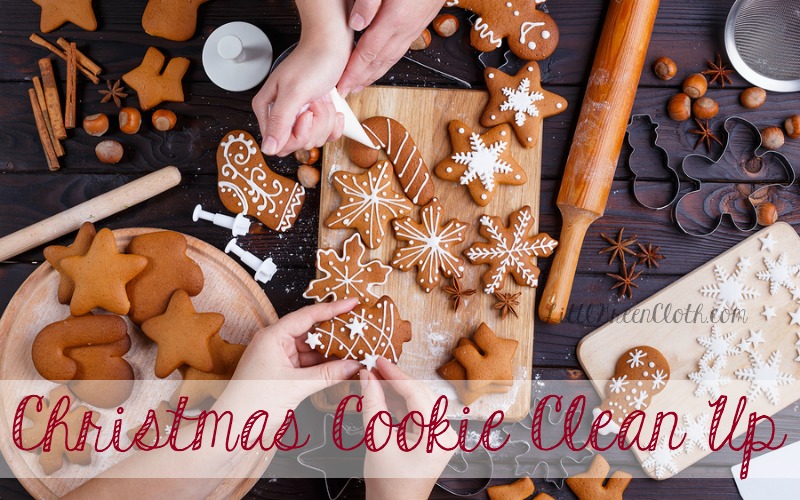 What is your favorite Christmas cookie or candy to make?
I love making Christmas cookies, but the mess can become very overwhelming! An afternoon of baking turns into a long evening of
scrubbing…scrubbing…scrubbing…
when all I want is a "long winter's nap!"
Norwex has made cleaning up the Christmas cookie mess much more efficient. There is a cloth for every job and by the end you will have your spic 'n span kitchen back! Let's get to work!
Rise and and load all your dishwasher safe bowls, measuring utensils, and other dishes into the dishwasher. Press start. If you are the dishwasher, wash these first and put away. Phew!
Start up a sink of hot water and Norwex Dishwashing Liquid. Throw in all your specialty baking items– cookie cutters, cookie press, gingerbread house mold, rolling pin, etc.- and let them soak. Come back to them and wash them off with your Norwex Dish Cloth. This cloth's netted design catches on the dough easily, but rinses out easily. Let them air dry on your Sink Mats or Dish Mat.
At this point all, all the dishes should be clean and put away. Time to tackle the counters. Start by wiping up the loose flour and dough with the Norwex Dish Cloth. Just like when you washed your dishes, this cloth will gather the flour without clogging your cloth. Once you've got all flour and dough, go back over your counters with the Norwex Kitchen Cloth. This cloth will wipe up anything sticky or stuck on the counters and remove 99% of bacteria (when used correctly).
I'm a bit forgetful so I usually have to clean my stove top after making Christmas candy. Go over your stove top with the Kitchen Cloth first to pick up loose chunks. Then dab your Spirisponge in Cleaning Paste and scrub away all the burnt sugar or whatever boiled over. You won't need to put in much effort because the Cleaning Paste has all the elbow grease needed! If your stove top isn't too bad, then just scrub it off with the EnviroSponge and water.
You're almost done! Sweep over your floor with the Chenille Dry Mop Pad first to clean up larger chunks, and then follow up with the Dry Mop Pad to get the fine flour .
Voila! Your kitchen is back to normal and your cookie tins are filled!
I love that Norwex makes kitchen clean up fast and easy. Check out the chart below as a reminder on when to use each of your kitchen cloths, and read through out previous blog post to brush up on all their functions.
Happy Baking!