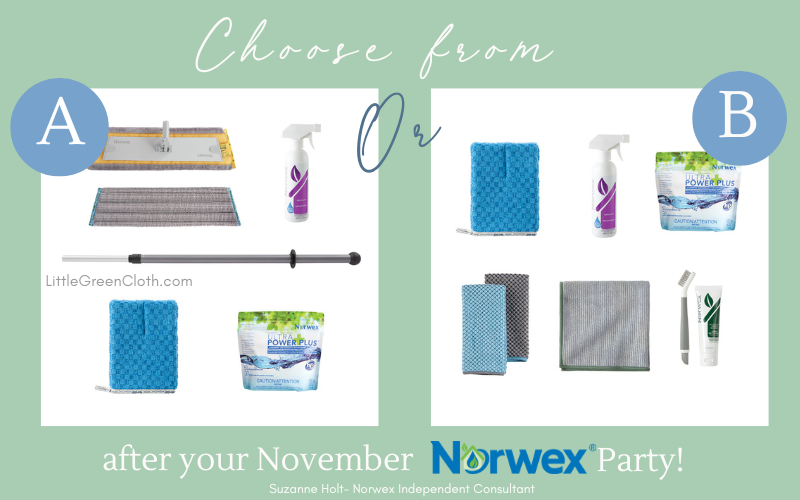 When you host in November, you can decide which Norwex rewards package to redeem, and one of them includes the Mop System! As a November host, you can choose between earning the small or large Norwex Mop System or you could opt for some deep cleaning tools! It is totally up to you which one it will be! It is also a great time to host because your friends can have a chance to Christmas shop the Norwex holiday products well before the holiday shipping deadline. Let's check out all that this month has to offer hosts!
STAR 1 – You get rewarded for how many BUYING GUESTS you have! You will receive free shipping and host credits up to $40.
STAR 2 – Party Sales – You get rewarded with 10% or 12% of total sales as Host Dollars to spend as you like.
STAR 3 – Party Bookings – you get rewarded if someone at your party decides to book a party themselves, and you get a FREE light grey with blue trim EnviroCloth, weathered wood Window Cloth, dark blue Dusting Mitt, and blue stripe Optic Scarf. I love that there are so many ways to earn at your Norwex party, and the best is yet to come!
STAR 4 (This is the BIG one!!!) – Once you reach the fourth star, you will qualify for lots of FREE product! To qualify for the fourth star, you will need to have at least 3 buying guests, a $350-1,000 party total minimum and at least 1 booking. It might seem like a lot of pieces to come together, but I love coaching my hosts so they have the best chance of reaching their goal. At the $350 level, you'll earn a bottle of Descaler and a Bathroom Scrub Mitt. The Descaler is a biobased formula that safely removes soap scum, heavy calcium, limescale and rust deposits from toilets, shower doors, stalls and bathtubs within minutes without toxins! Once your total reaches $550, you'll earn a bag of Ultra Power Plus. With all the extra holiday linens and laundry, you'll love having another bag on hand. If you make it to the $750 level, you'll get to choose from two different rewards packages! If you go with Option A, you'll be receiving the Small Norwex Mop System and if you bump your party total up to $1000, your mop will upgrade to the Large sized system.The Norwex Mop System is a must have! It will help you save money since is just uses water and the microfiber pads- no more disposable pads or refillable solutions! Check out this post to learn more about the mop. If you go with Option B, you'll receive a set of Large Counter Cloths and a Bamboo Cloth at the $750 level, and if you bump up to $1000 level, you'll receive a Utility Brush and All-Purpose Cream Cleaner. These tools will make deep cleaning before the holidays a breeze! Which level do you hope to make it to this month?
Are you ready to host a Norwex Party this November? Which Norwex rewards package will you choose? Get a start Christmas shopping the new 2022 Norwex holiday products! Contact me today to schedule!