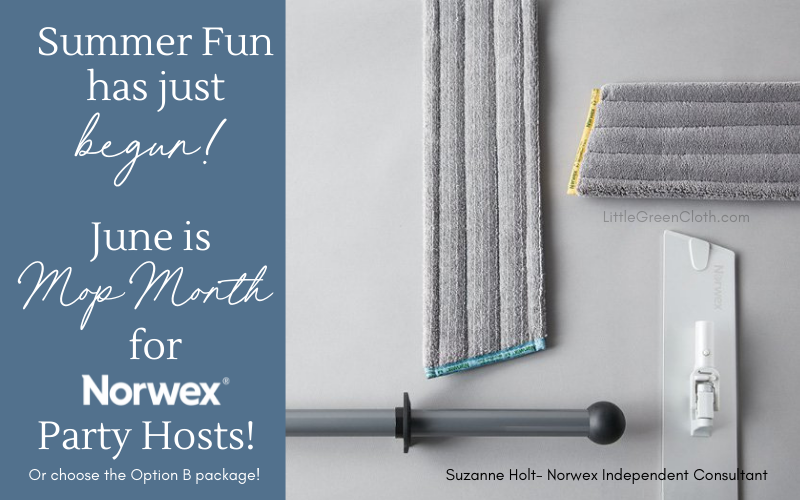 The fun has just begun- June is a Norwex Mop Month for hosts! The mop is probably the most beloved Norwex product because of how effectively it cleans, all while saving you time & money, your health and the planet's! If you already own (and LOVE) the mop, June hosts also have an Option B package that will earn you a set of Norwex towels-also amazing since it will help you cut back on laundry (aka- more time in the sun!). June might be a busy time to gather a group between sports and cabin time, so take advantage of digital and catalog parties- the reality is we all still need to clean in the summer! Let's see everything a June Norwex party has to offer!
STAR 1 – You get rewarded for how many BUYING GUESTS you have! You will receive free shipping and host credits up to $40.
STAR 2 – Party Sales – You get rewarded with 10% or 12% of total sales as Host Dollars to spend as you like.
STAR 3 – Party Bookings – you get rewarded if someone at your party decides to book a party themselves, and you get a FREE Amethyst Lace Window Cloth, Amethyst EnviroCloth & Dusting Mitt, and a petite Charcoal Grey Optic Scarf. I love that there are so many ways to earn at your Norwex party, and the best is yet to come!
STAR 4 (This is the BIG one!!!) – Once you reach the fourth star, you will qualify for lots of FREE product! To qualify for the fourth star, you will need to have at least 3 buying guests, a $350-1,000 party total minimum and at least 1 booking. It might seem like a lot of pieces to come together, but I love coaching my hosts so they have the best chance of reaching their goal. Let's go through Option A first. At the $350 level, you'll a bag of Ultra Power Plus and Mattress Cleaner. These products are also fan faves because of how effectively they clean with enzyme based formulas. No need for harsh chemicals when it comes to the fabric you put against your skin. At the $550 level, you'll earn the Envirowand, in addition to everything earned at the $350 level. The Envirowand is amazing dusting all the hard to reach places- ceiling fans, the top of the fridge, baseboards, etc. At the $750 level, you'll earn the Small Norwex Mop System! The Small size is still quite mighty with its microfiber pads that not only dust and wash your floor, but also self cleanse after use, thanks to the BacLock feature. Since Norwex microfiber has micro silver embedded in the cloth, bacteria dies inside the cloth without a chance to reproduce due to the environment the silver creates. At the $1000, in addition to everything earned at the $750 level, you'll earn the Large Norwex Mop System. You'll love having this larger size, especially if much of your home has solid floors. The mop makes it a breeze to keep that much surface area debris free while keeping up with the kids and pets over the Sumer.
Are you ready to plan your June Norwex party?
 Contact me today to become a June Norwex host!