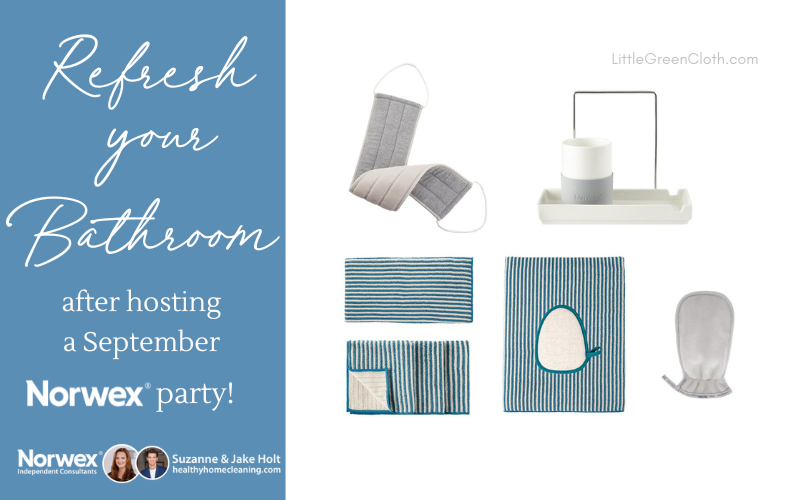 After hosting a September Norwex party, your bathroom can go from blah to spa with qualifying host rewards! I love stepping back into the routine of fall and making more space to reconnect in a home with some warm autumn accents. With this atmosphere, just add some apple cider and you'll be ready to have some friends over to look through the new Fall 2022 Norwex catalog and all the new product additions! This line up has new products, colors, patterns, & improved formulas. After the party has wrapped up, you could earn some products that could help you update your bathroom. Let's check out what September has to offer!
STAR 1 – You get rewarded for how many BUYING GUESTS you have! You will receive free shipping and host credits up to $40.
STAR 2 – Party Sales – You get rewarded with 10% or 12% of total sales as Host Dollars to spend as you like.
STAR 3 – Party Bookings – you get rewarded if someone at your party decides to book a party themselves, and you get a FREE Amethyst Lace Window Cloth, Amethyst EnviroCloth & Dusting Mitt, and a petite Charcoal Grey Optic Scarf. I love that there are so many ways to earn at your Norwex party, and the best is yet to come!
STAR 4 (This is the BIG one!!!) – Once you reach the fourth star, you will qualify for lots of FREE product! To qualify for the fourth star, you will need to have at least 3 buying guests, a $350-1,000 party total minimum and at least 1 booking. It might seem like a lot of pieces to come together, but I love coaching my hosts so they have the best chance of reaching their goal. At the $350 level, you'll earn a teal and vanilla stripes Hand Towel and Body and Face Pack. This pattern is a fun way to spruce up a space, but also will help you cut back on laundry since they contain the BacLock feature which purifies the cloth after use. Since it doesn't harbor bacteria, you can use these cloths longer than regular ones. At the $550 level, you'll earn a teal & vanilla stripes Bath Towel along with an Exfoliating Mitt. One side of the mitt is suede like and can easily take off makeup; the other side gently buffs and removes dead skin cells to give a glowing look. Sounds pretty spa-aah, wouldn't you say? At the $750 level, you'll receive the Back Scrubber! Once you add this product to your routine, it will become a staple. It feels so good to have that exfoliation from top to bottom, plus dads like it for their backs too! Finally, at the $1000 level, you'll receive the Porcelain Sink Organizer. It is a lovely way to organize your bathroom toiletries or the kitchen sink. Where would you put yours?
Are you ready to plan your September Norwex party and go from blah to spa-ahh in your bathroom?
 Contact me today to become a September Norwex host!