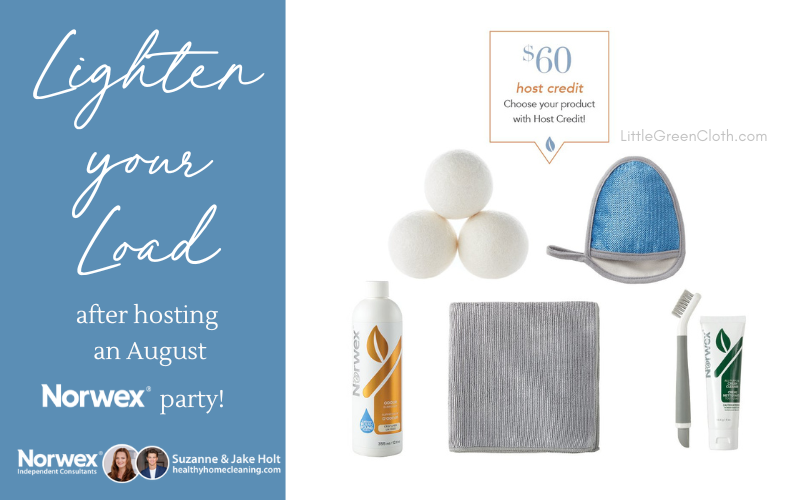 After hosting an August Norwex party, you could earn the tools needed to lighten not only your work load, but also the chemical load in your home! With back to school on the horizon, you'll love how switching to a Norwex cleaning routine can help you save time and money once your schedule returns to full swing, all while helping your cut back on chemicals that interfere with your health and the environment. August Norwex hosts also get to be the first to show off the new Fall 2022 Norwex catalog and new products that just launched! This line up has new products, colors, patterns, & improved formulas. Let's check out everything August has to offer!
STAR 1 – You get rewarded for how many BUYING GUESTS you have! You will receive free shipping and host credits up to $40.
STAR 2 – Party Sales – You get rewarded with 10% or 12% of total sales as Host Dollars to spend as you like.
STAR 3 – Party Bookings – you get rewarded if someone at your party decides to book a party themselves, and you get a FREE Amethyst Lace Window Cloth, Amethyst EnviroCloth & Dusting Mitt, and a petite Charcoal Grey Optic Scarf. I love that there are so many ways to earn at your Norwex party, and the best is yet to come!
STAR 4 (This is the BIG one!!!) – Once you reach the fourth star, you will qualify for lots of FREE product! To qualify for the fourth star, you will need to have at least 3 buying guests, a $350-1,000 party total minimum and at least 1 booking. It might seem like a lot of pieces to come together, but I love coaching my hosts so they have the best chance of reaching their goal. At the $350 level, you'll earn an All-Purpose Cream Cleaner and Utility Brush. This combination is amazing at getting the nooks and crannies of surfaces restored and looking like new! You'll love buffing up faucets, floor corners, and more! At the $550 level, you'll earn a graphite EnviroCloth. Who doesn't need another one of these signature cloths? When used correctly, this microfiber removes 99% of bacteria from surfaces! Once inside the cloth, bacteria cannot reproduce because of the harsh environment that silver creates so the cloth is clean again after drying. It can be hard to believe, but the science stands up through all the studies performed! At the $750 level, you'll get a pack of Fluff and Tumble Dryer Balls, Odour Eliminator, and a Lint Mitt. Between these 3 products, your clothes fabric will be softer and smell better all without the use of chemicals! Once your party total reaches $1000, you'll receive a $60 host credit to spend on whatever you'd like in the catalog, including the brand new fall products! What are you hoping to try out next?
Are you ready to plan your August Norwex party and work towards a toxin free life?
 Contact me today to become a August Norwex host!