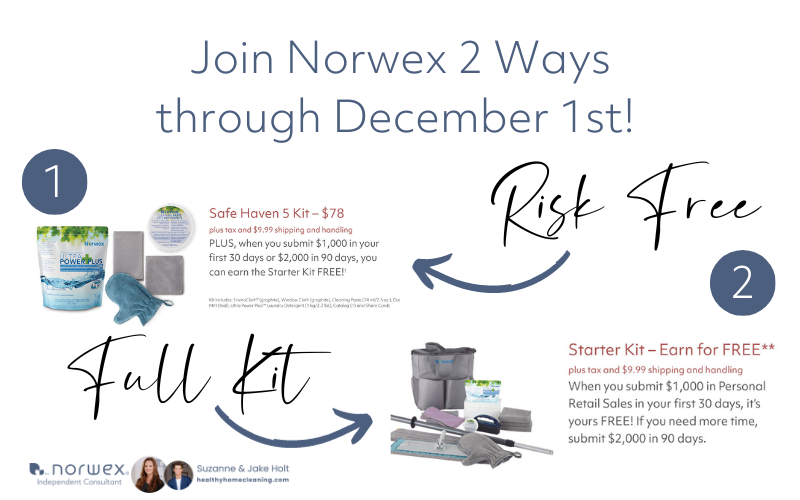 In November, you can join Norwex risk free all month with the Safe Haven 5 Kit!
After November 15th, you can still choose from the $78 Safe Haven 5 Kit and the Standard Starter Kit that can be earned for FREE! The Safe Haven 5 Kit is available all month long and contains the Safe Haven 5 package. Each of these packages includes everything you need to open an account including instant access to all of the online resources needed to start sharing with friends and family. When they buy Norwex from you, you earn a 35% commission to earn extra cash!
With the holidays right around the corner, this is a great time to open your account and order gifts at a discount. You could also be available to put in orders for friends and family and make some extra cash! Even though the traditional Starter Kit is a good deal, the risk of loss can be too much for some to commit. I'm so glad Norwex has promotions that remove that barrier and give everyone 3 ways to join Norwex!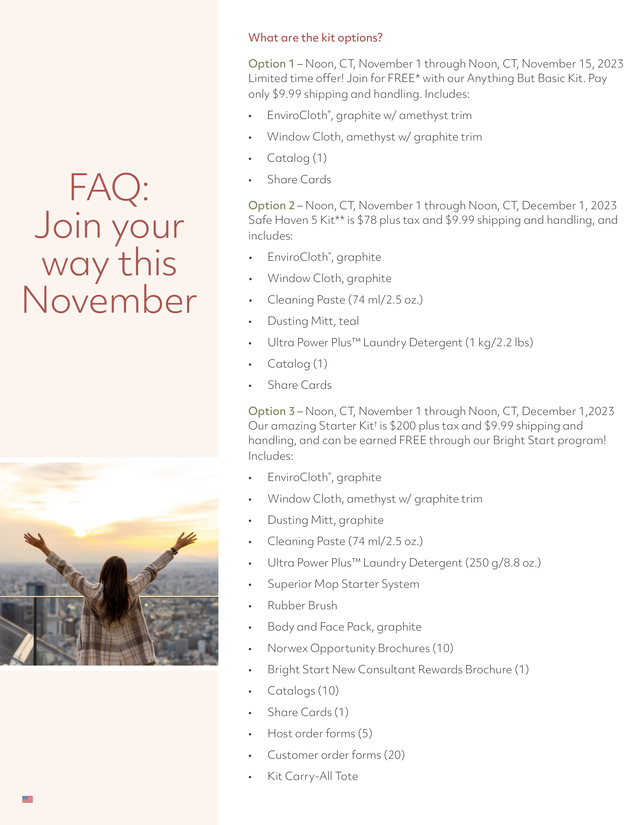 FAQ on Opening a Norwex Account through December 1st
Q. How do I open my own Norwex account?
A. Simply connect with your Consultant and let them know you'd like to open a Norwex
account to start purchasing at 35% off. If you don't have a consultant that you're working with or if I am
your consultant, you can SIGN UP HERE to select me as your mentor.
Q. What do I receive?
A. It depends on the kit you choose- Personal Care Real Conversations, Safe Haven 5, or Standard. Even before it arrives, you get instant access to your online Norwex account and can place an order right away.
Q. What are the purchase requirements?
A. There is no sales requirement to get this free package and account. Anyone can sign up for it! If you want to keep your Norwex account, you simply need to place $250 in orders (retail price, before shipping and taxes) every rolling six months. There's absolutely no penalty if you choose to stop ordering. 
If I choose the Anything But Basic or Safe Haven 5, do I get Office Suite for free?
A. YES! All new Consultants, even ones that choose to open an account with the free kit 
option, have access to Office Suite Plus for FREE for 6 months. * This will make it even easier to share Norwex with friends and family and earn 35% commission on their purchases
*Office Suite and Office Suite Plus 6 month free offer is valid for New
Consultants who join from noon, CT, November 1- December 1, 2023, CT
Q. Anything else I should know about opening this Norwex account? 
A. Yes! You have the option to add an Upgrade Package when you choose to open this account. When you sign up, you'll simply check the upgrade option and get all of these extra Norwex items at a discount. Note that this upgrade option is ONLY available at the time of sign-up, so if you're interested, make sure you grab it! 
Q. Can I choose the "traditional" or "standard" (Starter Kit) way to open an account?
A. Absolutely! The traditional Starter Kit option is always available and is a great option if
you'd like to be more active sharing and selling Norwex. The Starter Kit comes with a stash of Norwex products and some business supplies, so it's perfect for more active sharing and selling. 
Q. I've heard new Norwex consultants can earn bonus rewards in their first 90 days.  Can I earn these Bright Start consultant rewards if I choose the Norwex account kit with just an EnviroCloth and Window Cloth?
A. YES! This kit and the Standard Starter kit come with all of the same new consultant
incentives. When you sign up, you'll receive extensive details about how to earn these bonus products. 
Q. Which kit should I choose?
A. It's really up to you! The Anything But Basic and Safe Haven 5 are both great, low-risk option to try selling to family and friends. If you'd like to have the joy of unboxing new Norwex products now and earning them for free by selling $1000 in 30 days or $2000 in 90 days, you may be interested in the Starter Kit.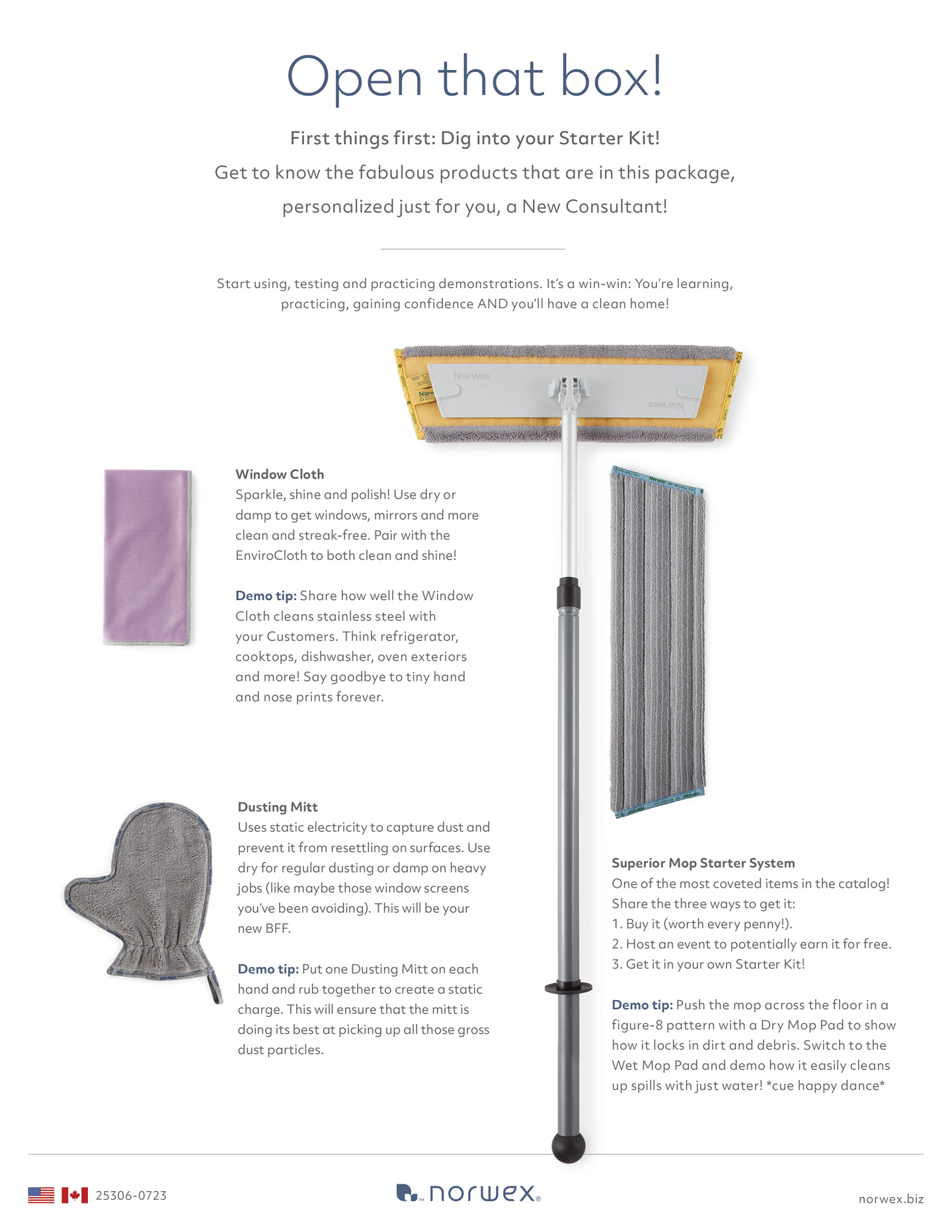 Will this Work for You? 
I would love to answer any questions you might have about the 3 ways to join Norwex from November 1- December 1, 2023 to purchase products at a 35% discount.  I would be honored to be your Norwex mentor and leader. Please contact me and let me help you start your Norwex journey!